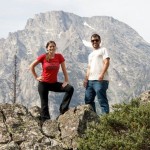 We took off on our dream trip – What is your American Dream Trip?
If you could take any trip across the U.S. what would it be? Where would you go? What would you do? Who would you go with?
We're looking for submissions on your dream trip. It could be your ultimate dream, or something that you could possibly afford. The sky's the limit, dream away.
Guidelines:
Write a short narrative paragraph about your American Dream trip (a paragraph is plenty). Describe what it is you'd like to do and why you'd like to do it. See examples below.
List the following details: Duration, Destinations, People, Budget (rough), Mode of Transportation, Goal.
Send us an email with your submission and we'll post it on the site. If you have any relevant photos, send them along, have fun with it! You can email us at info@americanodyssey.tv.
Check out these examples below….
Related Articles
Share
About Author
(4) Readers Comments