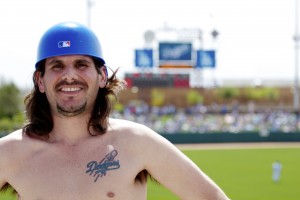 RYAN MACIAS – My American Dream trip is to spend 6 months traveling the country watching a game at each of the 30 Major League Baseball stadiums (Technically this would not just be an American Dream trip as I would have to go to Canada to fulfill the dream).
My trip would begin on Opening Day of baseball. I would travel across the country capturing a game, not just visiting, each and every stadium by the end of the season. In addition, I would catch at least one World Series game and the All-Star game.
Time: 1 year
Destination: Every city with an MLB stadium
People: Myself plus anyone who would want to join along the way, but I think my brother is the only person who would want to spend the entire time sharing this dream with me.
Money: $30K
Transportation: Airplane, car, RV, train
Goal: Watch a game at each of the 30 MLB stadiums in one season
**To submit your own American Dream Trip, check out the details here and email us at info@americanodyssey.tv.
Click the links below to see more My American Dream Trip entries.
Related Articles
Share
About Author
(0) Readers Comments