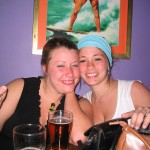 JULIE GEORGE – My American Dream trip is to eat my way around America. I love food – especially eating it. Whenever and wherever I travel, I think that food is the way to the people and the place. I want to visit the food hotspots like New Orleans, Memphis, San Francisco and really dig in. I'd learn about the food, eat at local restaurants, eat home-cooked meals and learn how to cook it myself. Discovering America bite by bite is the way to go for me! I'd love to take this trip with my friend Tessa, because she loves food as much as I do, but she's a much better chef!
Time: 6 months
Destinations: New Orleans, Memphis, San Francisco, Portland, Boston…
People: My friend, Tessa
Money: $30k
Transportation: Car
Goal: Discover America by eating and cooking America's best food!
**To submit your own American Dream Trip, check out the details here and email us at info@americanodyssey.tv.
Click the links below to see more My American Dream Trip entries.
Related Articles
Share
About Author
(0) Readers Comments