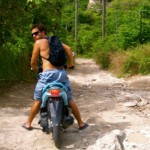 KENNETH MACIAS – My American Dream is to ride my bike across the country. Unfortunately, I don't have the time or endurance necessary to do it on a pedal bike, so I would like to ride a motorcycle across instead. Many people like to drive across country, but they do so in a short amount of time, basically stopping in one place for a night and flying off to the next. On a motorcycle, you are without the shelter of your car, and limited in your possessions, so as not to be bogged down by gear, be it computers, sports equipment, food or anything else you might pile into your SUV. It's just you, the bike and the road. The trip all about the journey, the time alone, the country you live in and the places you drive through. No destination, just one guy, two wheels and the open road.
Time: Three Weeks
Destinations: Anywhere on West Coast to Anywhere on East Coast
People: One or many, depending on who want to join
Money: $1000
Transportation: Motorcycle
Goal: To drive the entire width of the country on a motorcycle
**To submit your own American Dream Trip, check out the details here and email us at info@americanodyssey.tv.
Click the links below to see more My American Dream Trip entries.
Related Articles
Share
About Author
(0) Readers Comments