Now that we have the RV and it's cleaned out, packed up and on the road, we need a name for it! So, we're turning to you, our fans to help us in naming it. (Check out the video tour of the RV here)
Here are some details and the story of the RV so far to help you 'get to know' the RV: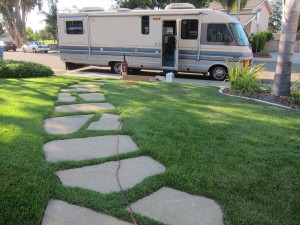 1991 Fleetwood Pace Arrow 32 ft., 42K mi, Chevy 454 engine, blue/tan/gray color, blue interior
The inside is in really great shape. No tears, not much evidence of wear and tear over the last 20 years.
The Story…When Kenny first test-drove the RV, it caught on fire! Literally smoking. A guy pulled up next to us and was honking and pointing down at smoke coming out from under the vehicle. We pulled over in the Home Depot parking lot and figured out that it was coming from the driver's side front tire. We needed to let it sit. That's when we realized that between the three of us, none of us had a cell phone. The owner ended up finding a phone to borrow and called his wife to come save us.
The issue was a caliper that clenched on and wouldn't let go. I guess this is common when a vehicle sits in disuse for awhile. So, after a new brake job, we decided to buy it! Everything has checked out so far and it's been treating us well.
Now that you know a little bit about the RV, we want you to help us name it! Leave a comment below with your suggestion. At the end of the week, we'll choose the two best names. If you provided one of the two that we chose, you get a free American Odyssey TV t-shirt sent to you! From there, we'll decide what to name the RV.
Thanks for your help and good luck!.
Related Articles
Share
About Author
(14) Readers Comments