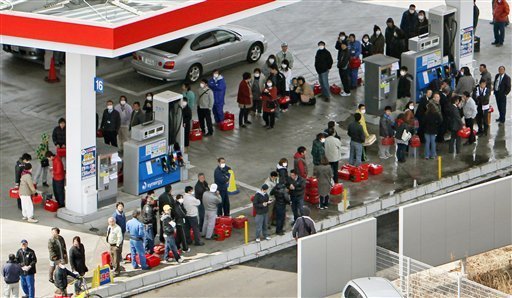 Dear Friend,
First I'm so sorry late reply.
(I needed English book and dictionary…)
Hope you're doing all right. Thank you in advance for your concern.
Thank you for your heartwarming mail! It was great to get your e-mail.
I'm so moved right now. My family and me are OK.
You know we have SOOO big problem of Nuclear right now.
I'm watching TV everyday but I don't think it is getting better because maybe people died over 20,000.
Radioactivity is increasing.
I will tell you more about my last week:
Friday, 3-11 – There was TOO big Earthquake in Japan.

All train is suspended so I had to stay my company the day in Tokyo Friday and Saturday.
I had to work to help my company's people of stricken area all night so I could not sleep at all Friday night.
In Sendai is no water and gas and food and electricity and….
Saturday, 3-12 – Early next morning, Coworkers and I went to
stricken area bringing goods like water and food by car.
It took 19 hours from Tokyo to stricken area (230 miles) because we could not use free way.
So we arrived at 2am (Sunday morning).
There was no water so we cant wash hands, take a bath, go to rest room.
It was so hard for us.
Sunday 3-13 – We rescued my company's people.
Monday 3-14 – We want go back to Tokyo but we had not gasoline enough to go back to Tokyo.
We needed to buy gas at gas station but too many people need gas too so we could not buy the gas easily….
TOO long waiting line of cars. I waited the line for 7 hours and I bought only ¼ gallon…
but I thought maybe I can go back to Tokyo!
Sameday all gas station closed because all gas was sell out in the city
(maybe next arrival gas was 3-4 days later).
A nuclear power problem happened then nearby.
I drove from near nuclear power area to Tokyo.
I drove over legal speed because maybe there was much radioactivity around us.
Tuesday 3-15 – Finaly I arrived at Tokyo at 2:30am
I stayed hotel and I could take a bath first time since Thursday.
I asleep a few hours and I go to company.
I could go home Tuesday night first time since Friday Morning.
It was TOO hard for me last week.
Nuclear power problem is continue.
My wife and daughter might go out of Japan but my daughter
has no passport so my wife will get passport for my daughter.
Anyway, I hope nuclear power problem is clear!!!
There are many grammatical errors and inappropriate
expressions. I'm so sorry.
Let's keep in touch.
TOMO