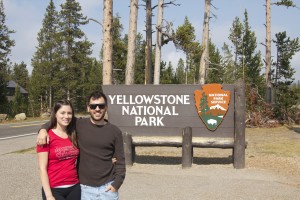 Yellowstone Park – not to be confused with Yosemite Park. Is it just me that gets these two names confused? Is it an East Coast thing? Because growing up, both of these parks seemed so very far away.
Yellowstone National Park is enormous. It takes up the entire northwest corner of Wyoming and is said to be almost the size of Connecticut. It's the country's first national park and it's pretty obvious.
Every stop and pull-out is strategically placed and planned. Every point of interest has its own wooden boardwalk that will get you safely to your destination. The thinking has been taken out of it and the accessibility is through the roof.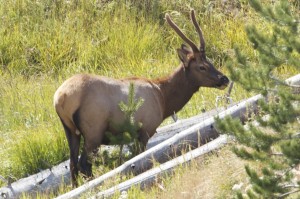 They have made it as easy as possible for the most amount of people to see the most amount of sites in the least amount of time. Sounds like good ol' American over-simplification at its best.
Of course, there is more to see at Yellowstone than the prescribed route, but if you're only there for a few days, the prescribed route is all that you have time for. Getting off the beaten path is reserved for those on second, third trips.
In all seriousness, Yellowstone is a special place. The amount of wildlife habitat that is preserved allows for the wildlife to thrive there and to keep the vistas breathtaking. I kept saying that it looked like we were in Africa. I think it was just how I imagined a safari scene to be – as open as you can imagine, rolling hills, brownish/yellow grass dotted with dark green trees, streams and animals roaming at their leisure.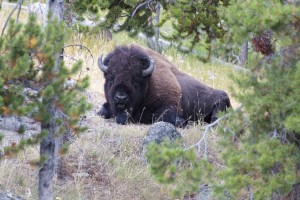 It's really surreal, but it was something I became accustomed to in our 3 days in the park. The American buffalo/bison were everywhere. I must have seen hundreds of them over our visit. These animals are massive. They average around 2,000 pounds – a ton! Their heads are huge, especially the males, and they have impressive horns.
But, they appear to be these slow, dumb, peaceful animals. Just meandering the fields, grazing, never doing much or moving at all when you see them. But, apparently they can run up to 30 mph and are the main culprit of wildlife-inflicted injuries at the park each year. Who knew?
I still have a hard time accepting that and like to remember my buddies as big, dumb and peaceful beings.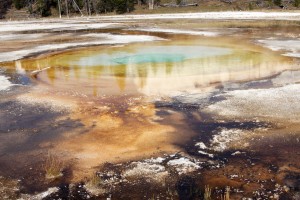 If I took two things from Yellowstone it would be the thermal features and the wildlife. Everywhere you turn something is steaming, gurgling, bubbling or shooting water. The colors were amazing and you definitely felt like the ground below you was alive. Then, driving down the road, you couldn't get too far without a group of cars pulled off to the side, peering out at whatever animal might be in the distance.
Yellowstone National Park is a magical place. I just wish that I got to see a bear there.
Have you been to Yellowstone? What did you see?
###
Related Articles
Share
About Author
(0) Readers Comments