When googling online, we usually turn to a trusted site such as, well, Google. Some of us use Bing, the other mega search engine created by another mega internet power named Microsoft. Google and Microsoft are household names, and we generally trust them to control our searches, email and other web-related activities. There are other search engines out there like Yahoo (as long as it is still around) the ancient AOL, and sites like Ask.com. These sites have been around for years (MSN changed its name to Bing) and while some are used, we all basically google with Google – who has over 70% of the market.
All of this being said, there is a new player in the market. Apple? Facebook? Twitter? No, no, and no. While all of these major companies are constantly making changes and updating their usability, these are not the companies seeking your search. It is another household name that is about to drop the hammer and try its hand at becoming a legit player in the internet world. So legit it hopes to become that it will soon be too legit to even quit.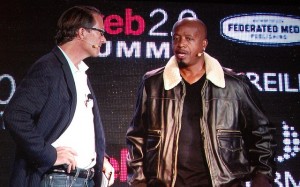 Okay, you get it.
M.C. Hammer, the internet mogul.
Um, what?
Yes, that is right, M.C. Hammer is hoping to join the other megaliths on the search engine front with WireDoo, where you can "search once and see what's related."
Dude, I just WireDoo'd and saw that M.C. Hammer is trying to start a search engine!
I don't know where to go with this. It is funny. Maybe he is hoping to fill the vacuum left by Steve Jobs. I see it now, the Mount Rushmore of Silicon Valley – Bill Gates, Steve Jobs, Mark Zuckerberg, Stanley Burrell (Hammer-time).
Can't touch this, but you can WireDoo it.
###
For more on Hammer search, check out the NYT Blog article.
**Did you like this article? For more, subscribe via RSS or email or Follow us on Facebook.
Photo courtesy of kevinkrejci.
Related Articles
Share
About Author
(0) Readers Comments