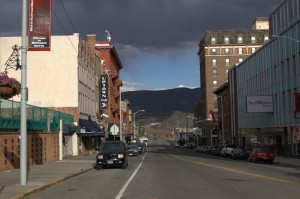 Butte, once known as the "Richest Hill on Earth," is a city that was booming back in its copper heyday. With a huge influx of miners, the town became filled with hundreds of saloons and a famous red-light district.
Those days came to a screeching halt in 1983 when copper mining finally came to a definite end in 1983. Since then, the city has been in the midst of a major cleanup of the environmental wasteland that the mining industry left behind.
Sounds drab, but we decided to stop in Butte and had to do something. So, if you, like us, end up stuck in the 'Butte' of Montana, you'll need some things to do, so here's what we recommend.
Berkeley Pit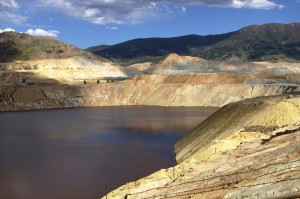 It's a pit. A huge, open pit that is filled with poisonous water. And it's the most popular tourist attraction in Butte.
Even so, you should visit to experience the 'real' Butte and see where the city came from and where it is right now.
The Berkeley Pit is a former open pit mine that closed in 1982 and has been filling with water and toxic heavy metals ever since. Within two years it was deemed a Superfund site and in 1995, 342 geese landing on the water and died. The water has continued to rise over the years without real treatment beginning until 2003.
Berkeley Pit
Cost: $2
E. Park Street
406-723-3177
http://en.wikipedia.org/wiki/Berkeley_Pit
Fairmont Hot Springs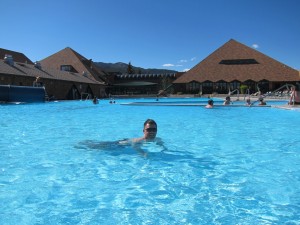 Right outside of Butte in the town of Fairmont you'll find Fairmont Hot Springs. It's a hotel resort, however, they have hot springs pools that are open to the public for a daily fee.
We absolutely love hot springs and are always on the hunt for a good one. At Fairmont, they have a large swimming pool that heats up to 94 degrees and a hot tub pool up to 104 degrees both inside and outside. All of the water is sourced from a local hot spring, so you can enjoy a simple, natural soak.
It's not the nicest hot springs I've ever visited, but it was relaxing and the water was amazing. It's a nice reprieve from all of the thoughts of the pollution of Butte!
Fairmont Hot Springs
Cost: $8.75
1500 Fairmont Road, Fairmont, MT
406-797-3241
http://www.fairmontmontana.com
Old Works Golf Course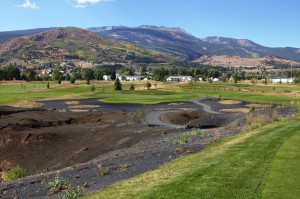 Just outside of Butte in the town of Anaconda lies Old Works Golf Course, the only golf course built on a Superfund site (federally recognized pollution site). In a wasteland of toxic chemicals, this community decided to take the land and turn it into a Jack Nicklaus Signature course – now the best golf course in the state.
It's a pretty amazing sight. You're in the midst of black slag, the course is glistening black mixed in with the deep, green of the course grass. Instead of completely covering their mining past, they incorporated the slag into the architecture of the course.
What they've done with the course is impressive, but the course itself is a great play and rated the best in the state and one of the greats in the U.S. If you're in Butte and love golf, don't miss playing this course.
Old Works Golf Course
Cost: $29-$65
1205 Pizzini Way, Anaconda, MT
406-563-5989
http://www.oldworks.org
Walk Uptown Butte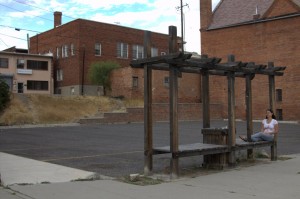 Our trip to Uptown Butte didn't turn out how we expected, but I still recommend doing it while you're there. While walking around, we soon realized that every 'attraction' that was listed on the tourist sites was closed and looking dilapidated.
Piccadilly (Evil Knievel ) Museum – closed; Copper Mansion – closed; Dumas Brothel Museum – closed; Mai Wah Society – couldn't find. So, you could do what we did and walk around town looking at the outside of these sites, while in the meantime taking in the vibe of this once vibrant downtown.
The buildings are old and barren, but tell a story of the history. I loved seeing the old advertisements painted on the sides of brick buildings and the touches of great architecture on buildings that were now falling down. If nothing else, a walk through Uptown Butte will leave you with endless photography opportunities of an aging urban downtown and an interesting hour or two.
Uptown Butte
http://www.mainstreetbutte.org/
Have you been to Butte? What would you suggest doing?
###
Related Articles
Share
About Author
(3) Readers Comments