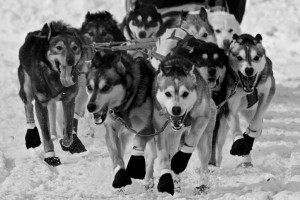 1. Ceremonial Start – Downtown Anchorage
2. Official Start – Willow
3. Reindeer Run – Anchorage
4. Martin Buser's Tour – Big Lake
5. Musher's Banquet – Anchorage
6. Seward Highway/Alyeska Resort
7. Millennium Hotel – Anchorage
8. Humpy's or Chilkoot Charlie's – Anchorage
9. Fur Rondy – Anchorage
The Iditarod Sled Dog Race, also known as 'The Last Great Race', starts in Anchorage and travels over 1,000 miles through the coldest land in America. It starts on the first Saturday in March, and takes anywhere from nine to fifteen days to complete.
The trek started in 1925 when residents in Nome, Alaska needed serum to combat diphtheria, and since they were closed off to the outside world in the harsh winter, sled dogs were the only means of transporting the serum. Soon after, airplanes became common, and the sled dogs were no longer a necessary means of transportation.
The race in its current form was started in 1973 by Joe Reddington, Sr., with an assist from Dorothy Page. It is now Alaska's most popular sporting event.
So, you want to check out the race, do you? Well, if you have the money and connections, you can hire a pilot, and get transported from checkpoint to checkpoint, finally arriving in Nome, Alaska, to meet the frozen mushers and their pups. However, most of us do not have the time, money, or connections to do that, so, for the rest of us, here is the best way to experience the Iditarod.
1. Ceremonial Start – Downtown Anchorage – first Saturday of March
The ceremonial start is held on the first Saturday of March in Downtown Anchorage. Each racer starts separately according to their draw number. This is just for show, as the official start is the following day.
2. Official Start – Willow – First Sunday of March
The official start of the race has been held in Wasilla and Willow in the past few years. Willow is bit further up the road, and more closely resembles the conditions that the racers will be competing in. You can drive to Willow, but the official buses are recommended as you won't have to worry about parking or road conditions.
3. Running of the Reindeer – Downtown Anchorage – First Saturday of March after Ceremonial Start
This event started in 2008, and has quickly become one of the highlights of Iditarod Weekend in Anchorage. It is put on by Fur Rondy, a separate festival piggy-backing on the Iditarod. The race starts downtown, immediately after Saturday's ceremonial start. It is a three-block sprint, where you race real reindeer. Yeah, kind of like the running of the bulls, sort of.
4. Field Trip to Martin Buser's Happy Trails Kennel – Big Lake
Martin Buser is a four-time Iditarod Champion, winning in '92, '94, '97 and 2002. He still competes in the Iditarod, but is kind enough to open up his kennel to the public, the week before the race. This trip is a MUST-DO if you are making the trip up to Anchorage. Martin Buser is a very warm and enthusiastic host, despite the fact that he is gearing up for the biggest event of his year. You can find tour information on the Official Iditarod website (recommended), or you can attend his 'open house' on Friday before the race. His kennel is in Big Lake, just outside Wasilla.
> Check out American Odyssey's video with Martin Buser here.
5. Musher's Banquet – Anchorage
This is the big opening night dinner party where the musher's draw numbers to find out their starting position. After drawing numbers, the musher gives a short talk about the upcoming trip. Book ahead for this.
6. Seward Highway / Alyeska Resort – Girdwood
Do you ski or snowboard? If so, this is a great chance to leave the city for a day or two and get to the slopes. Alyeska Resort is in Gridwood, Alaska, about 40 miles out of the city on the Seward Highway. Even if you don't ski or snowboard, there is a spa, and an amazing hotel to relax and enjoy the mountains. If you don't have time to spend the night, a day trip is still recommended, as the highway is right on the coast, and where else can you see a frozen ocean? There are plenty of places to park and take pictures. The earlier the better if you are looking for that perfect shot.
> Check out American Odyssey's video of the frozen ocean here.
7. Millennium Hotel – Anchorage
If you are wondering where to stay, you have two options, depending on what you are looking for, either at the Millennium Hotel or in downtown Anchorage. If you want to be in the middle of the excitement (starting Thursday), you should stay at the Millennium Hotel as it is constantly buzzing with activity – and you should book early. It is close to the airport and a little ways out of town. But, if you prefer to be in the city, or away from the madness, then there are plenty of options downtown.
8. Humpy's and Chilkoot Charlie's – Anchorage
For those staying downtown, there are plenty of options for food and drink, but the one that seems the most accessible, is Humpy's. It calls itself an 'Alehouse,' with a great selection of beers, plenty of TVs, a decent selection of food and the occasional band. Of course, there are lots of other restaurants and bars, depending on taste and price, but if you want to get out of the hotel and mingle, then Humpy's works as good as any.
If you are looking for a little more nightlife than a sports bar, then Chilkoot Charlie's is a multi-purpose bar/club/lounge. The night I went there was a heavy-metal cover band, a dueling piano bar, a dj contest and a female dance contest. This is not for everybody, but you know, if that's what you are looking for…
9. Fur Rondy – Anchorage
First, let me make this clear…Fur Rondy and The Iditarod are two separate events. I was reminded and corrected many times when I generically used the term Iditarod around Fur Rondy staff. Fur Rondy (Rendezvous) is a festival that started for Alaskans to bring their goods into the city to sell and trade. A few years ago, they changed the date so that it could coincide with the Iditarod.
Fur Rondy starts a week before the Iditarod and ends on the Sunday of the Official Start. If you have the available time, it may be worth coming out for the first weekend of The Rondy, as there are several unique events such as the Sled Dog Weight Pull, the Sled Dog Sprint Races, and Snowshoe Softball. During the week there are plenty of small events, but nothing of particular excitement until the Running of the Reindeer on Saturday.
Anchorage is a bit out of the way, but if you plan accordingly, and know what you are going to do, this can be a pretty cool experience.
Do you have any suggestions for activities before/after/during the Iditarod?.
Related Articles
Share
About Author
(0) Readers Comments