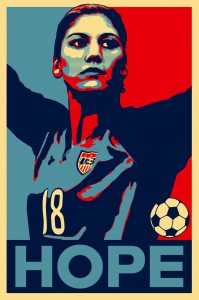 Holy smokes! These ladies know how to get your heart pumping.
I may not be a soccer fan, or a fan of too many women's sports (shame on me), but I love me some American pride and a great competition. The U.S. Women's National Team for the World Cup 2011 is outstanding on all counts.
I spent my Sunday afternoon screaming my head off, swinging towels over my head and smacking the heck out of the floor. Why? Because the game the U.S. played against Brazil was that good. That emotional. It was one of the most on-edge competitive events that I've seen in a long time. And, this is on an international stage, do or die. It makes it all that much more exciting.
And then today…the U.S. women faced France's Women's National Team in the quarter final to fight to see who would make it to the final game. The U.S. prevailed once again and it felt good to watch our ladies win.
I have no idea how this happened, but soccer and this special group of American women have captured my heart. You bet I'll be watching as we take on Japan's National Team on Sunday afternoon.
Oh yeah, and the goalie's name is Hope Solo. Could it be any more epic?!
FIFA Women's World Cup Championship

USA v. Japan
Sunday, July 17, 2011
2 p.m. ET.
Related Articles
Share
About Author
(0) Readers Comments