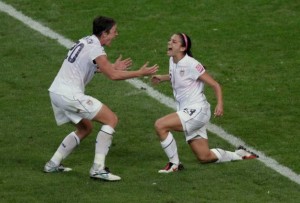 Everyone's hearts are with Japan and the heartbreak they've endured for the last several months. If we had to lose, losing to Japan doesn't feel quite as bad.
Easy for me to say, right?
But, my heart goes out to the U.S. Women's National Soccer team. They had a great tournament, with one of the most amazing wins I've ever seen, in extra time versus Brazil. I'm sad they lost, but I look forward to seeing them again next year in the Olympics.
Now, for the faces of the team: the Superhero Hope Solo, the Badass Abby Wambach, and the Striker Alex Morgan… This was Alex Morgan's coming out party and both Solo and Wambach played their way into our hearts, but more importantly the media's mind. Expect to see these three women on corporate endorsements everywhere around you. I look forward to it. They are upstanding, confident, strong women that deserve the recognition and the spotlight to show our young girls what women can achieve.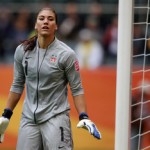 After an amazing game, my hat goes off to the Japan Women's National team. They were a big underdog, they were a lot smaller, twice they were down by a goal, and they came back both times. They did not play better, but they persevered, and when it came down to the penalty kicks, they all smiled. Hopefully their country can now do the same.
Congratulations, Japan. May you all smile..
Related Articles
Share
About Author
(0) Readers Comments