We did crash in the RV for a few nights when we were in L.A. for the wedding, but that was it – crashing. As soon as the festivities were finished, we bee-lined it out of town and to Santa Maria, Kenny's hometown, and our home base for getting the RV in shape and off and running.
Here is our very important checklist to accomplish before leaving Santa Maria: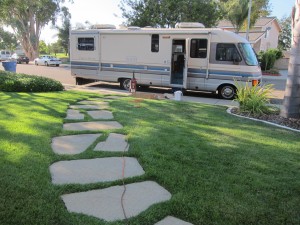 – Registration / Smog
– AAA / Insurance
– RV run-through
– Clean out / Pack up
Registration – Having an out-of-state license, we expected Kenny to have trouble registering the vehicle in California. He was at the DMV at 8 a.m. on Monday morning. No problem! They just needed a new smog certification.
Smog – The RV was smogged just in May, so we weren't worried, but…it failed. Apparently, in the last few months a hose cracked. It ended up being something very minor, so didn't cost much or take any time – crisis averted. The generator had been giving us issues, as well, but we found out that it was set to high altitude. Once this was switched, it ran beautifully. Whew.
AAA and RV insurance was a 2-for-1 errand. This took almost an entire day. Very frustrating, but necessary. We are now safely insured and have plenty of roadside assistance available if/when something happens.
The best part of our trip to AAA was having them map out our journey for us. It was very, very cool to watch as she snaked around the map with her highlighter, showing off our next few months. When we walked out the door, we had a stack of state tourist guides, maps, camping guides and a detailed itinerary of our actual route. It filled an entire shopping bag. I love it!
RV Run-Through – We had some questions about operating an RV and had to get a few filters replaced. A friend recommended an RV mechanic to come over and look at the RV for us – Edwin.
Edwin is an RV angel. He's worked on and traveled in RVs for his whole life and was overly knowledgeable. He broke down everything for us about using an RV, without ever looking down on us for our RV ignorance. He was patient and extremely informative. Not to mention that he fixed all that we needed and told us that we could call him from the road with any trouble we have! Seriously, thank you so much Edwin!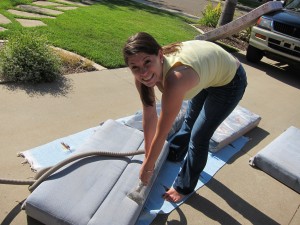 Clean out / Pack up – After registration, insurance, roadside assistance, repairs and a run-through, the last thing left was a full cleaning and packing it up. Kenny's parents rallied with us and we emptied, scrubbed and cleaned out the entire RV. It was smelling good and feeling clean.
The next day was moving in. We still had no idea if we brought too much stuff. Bit by bit, we filled the spaces and got most things organized. Thankfully, we realized that we still have plenty of space!
Finally we're ready to officially hit the road!.
Related Articles
Share
About Author
(1) Reader Comment