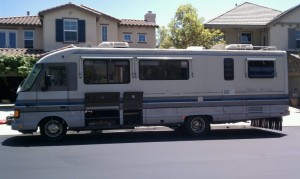 Finally, after a week in San Diego, we got an RV. Barely, and I mean barely. Had it taken another hour, we probably would have just left to LA, and waited through the weekend to figure out our next step.
After seeing nearly 20 RVs, we found the one we wanted. Then it caught fire. Luckily, it was just a brake caliper. The gentleman who had the RV for sale took it in and said it'd be ready Thursday morning. If so, we wanted it. We just had to wait and see.
Thursday morning Julie HAS to be on the road by nine. She was supposed to be in LA by Wed. night for a wedding, but we needed the car, so Thursday it is. We leave the hotel in time to go to the bank only to find that the money we need takes a day to be cleared. Through some creative manipulation of the banking system, we figure out a way to get the money. But we have to go back to the bank, if we decide to buy. It is now ten. Julie is late.
We find out that the brakes are done. Great, now we insist that the owner of the RV (who was extremely helpful to our circumstance) drives to a mechanic so we can get it checked out. The mechanic Gary, of Gary's RV Service in Oceanside, is just as helpful as the owner. He gets us in, gets it checked out. Julie waits as patiently as possible knowing the clock is ticking.
The RV checks out. It is after eleven. Julie is really late. I need money. She drops me off at the bank a couple of miles away, and then she leaves. She has no time to wait for me to get the money, and then to drive me back (even though it was only ten minutes).
The owner of the RV picks me up as I am walking back from the bank. He takes me to his house to unload all of his belongings (he definitely was not prepared to get rid of it so quickly). His wife joins him at the house, and I realize that I am making them both miss a day of work in order to get me on the road in time (thanks again Jim).
After a couple of hours I am starting to stress. It is nearly two in the afternoon and I have to go to LA. Rush hour…405…Not a great place to take a new vehicle, especially not a giant RV that I am driving for the first time.
Oh yeah, and I forgot to mention, I got food poisoning the night before, so I am extremely weak, tired, and dehydrated and it is hot outside.
I get the RV, thank Jim and his wife, and hit the road. But I am so tired, I start to doze off before I leave the county line. I pull over at the first rest stop I see and pass out in the bed for half an hour. Great thing about an RV, you can sleep comfortably when you are tired.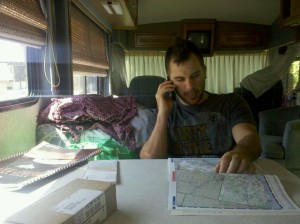 Bad thing, I am late, very late, and I still have to manipulate LA. Several hours later, and I reach LA. The drive was miserable, I felt like shit, and I had no place to park, and no idea where I was. Luckily, I found somewhere. I got changed and I made it to the rehearsal dinner while they were serving the salad. Julie was happy that I made it, but I felt like a bum. I didn't want to talk to anyone, I had no ability to converse, and I really just wanted to go back to sleep.
The party continued and I made it back to bed around 11. Julie came in at 4 a.m. We woke up to find a ticket on the windshield. Apparently, the city of Redondo Beach implemented a rule the month before that said RVs have to be checked into the city office Tuesday through Thursday. It was Thursday.
Day one, $125. Well, I guess it is still cheaper than a hotel room..
Related Articles
Share
About Author
(1) Reader Comment