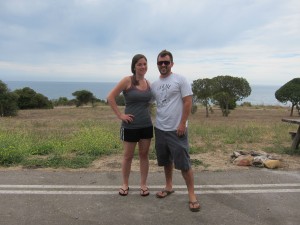 Day 1 of camping in the RV – El Capitan State Beach –  just north of Santa Barbara, CA, right on the ocean
After not knowing where to camp, we found a gem in the El Capitan State Beach park for $35. There was a hidden lot in the back with an unobstructed view of the Pacific Ocean – paradise.
We had a lot of 'firsts' this night…
Outdoor set-up – We set up our chairs, folding table, and mat. It was looking good and comfortable.
Awning – We have a huge awning that shades the whole passenger's side of the vehicle. We stood there staring, but had no clue how to get it set up. Kenny visited one of our RV neighbors to ask how he put his down. The guy said that he presses a button. Or, wait…uses his remote! Haha, obviously we have a very different model. No automatic rolling out of this awning.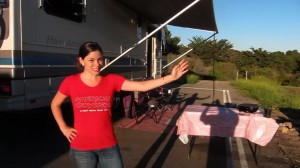 With some elbow grease and problem-solving, we eventually figured it out and got our awning looking great. Putting it back up the next morning was another story. It involved Kenny hoisting me up in the air to press some tricky buttons to release the poles. I really hope that we find a more efficient way to do this soon!
RV Cooking – Kenny's hometown friend, Matt, came to join us for our first night. He brought all the fixins' for a great meal, Alaskan halibut caught by one of his friends, fresh corn, asparagus, mushrooms and beer. We got to sort out how to cook in the RV and got the gas grill going outside, too. We tried to fire up the electrical grill, but it was late and we didn't want to turn on the generator.
All in all it was a successful first night, setting up, cooking and sleeping in the RV. Without water, we still haven't mastered showering and using the toilet, but that's for next time.
Waking up in the morning to the beautiful, Pacific Ocean was an added bonus and obvious reminder of why we're taking this trip and creating American Odyssey TV.
Be on the lookout…tomorrow we're posting a video tour of the RV!.
Related Articles
Share
About Author
(2) Readers Comments