Alright, well it's about that time. We've made the decision that we're leaving August 15. And, now we need a vehicle!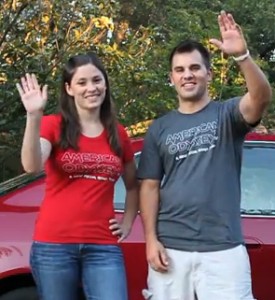 We'd love love love to have an RV motorhome to ride around the country in. Neither one of us have ever traveled in an RV before, and what better time than on this 101-day trip while we're documenting our every move?
So, you RV companies out there. We're in the market for a sponsor and we'd love to drive your RV!
We are two online media content creators that are traveling across the U.S. for 101 days as we produce a weekly webisode show and will be posting other feature videos, blogs, photos and social media updates as we travel America. We think that it would be a great benefit to you if your vehicle was not only featured in all of our media we are creating along the way, but we can create specific videos, blogs, photos and social media updates just for you and your needs!
We would love to have the use of one of your vehicles for our 101-day trip starting on August 15, or even for the duration of our 3 season project.
Looking for something new with your marketing and sales efforts? Want quality online video of your product that's not just a 'tour' of your vehicle? Want to expand to new markets online and through social networks? We can help you do all of this.
Also, with us being newbies to the RV lifestyle, we'd be the perfect people to create a mini-series showing 'RVing 101' and how two people unaware of how to manage an RV can easily learn and have fun on the road. There are so many possibilities of what we can bring to you.
Please contact us if you want to expand your online presence and think that we could be a great match. We're waiting to hear from you!.
Related Articles
Share
About Author
(0) Readers Comments