Once we finally got the RV started after the dead battery fiasco and were ready to go, we realized that we were completely sandwiched in by other cars!
When we had parked hours earlier there were no other cars around and we just pulled right in to our usual two spots. Shoot.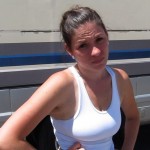 I hopped out of the car and tried to help Ken maneuver his way out of the parking space, but we were having no luck. There just wasn't enough space to turn our big rig.
Thank goodness, eventually someone came out and pulled out of the spot next to us so we were able to pull out safely.
Another lesson learned: Always, always park at the end of a row in the parking lot and absolutely as far away as possible from everyone else!
So, on the way to Las Vegas, I got my driving in and we learned some valuable lessons:
– We need a hose to get fresh water
– We can 'jump' ourselves
– Always park at the end of a row in the parking lot.
Related Articles
Share
About Author
(1) Reader Comment