We read about a free dumping station randomly in the Primm (state line of CA/NV) McDonald's parking lot, so we headed straight for it for our first RV 'dumping' experience.
Step 1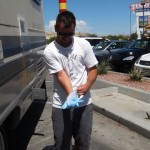 Kenny snapped on some of the gloves we bought for 'dumping' purposes and got to it.

Step 2
Next, he pulled out the sewer hose from its side compartment and attached it to the sewer pipe in the ground.
Step 3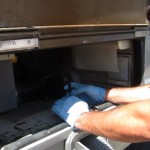 Then, he released the 'door' for black and gray water.  ('Black' comes from the toilet and 'gray' comes from the shower and sinks) Side note: You always want to flush the gray water with the black water so the gray 'helps' flush the black water, yuck!
And, voila! It began to drain. All in all we felt like it was successful. Not too tricky.
When we went to fill up with fresh water, first of all, we had no idea where the water tank was or how to fill it. We quickly sorted it out, and that's when we realized that we didn't have a hose. I swore I had seen one stowed away under the RV, but I guess I was wrong. No fresh water for us. Boo.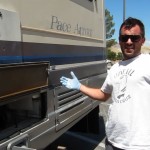 At the end of the day, we kind of learned how to 'dump' our gray and black water, but filling with fresh water will have to wait for another day..
Related Articles
Share
About Author
(3) Readers Comments