Our drive into Las Vegas, our first official stop, was a momentous one. We learned four lessons in one day.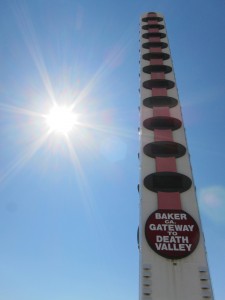 My first time driving the RV
I got my first real driving in and it was wild. I got behind the wheel in Baker, CA, right in the middle of Death Valley. Baker is known for having the highest recorded temperature of 134 degrees. We checked out the tallest thermometer in the U.S. there that commemorates their record.
I took off from the hottest place in the U.S., doing the most nerve-wracking thing I can think of…I was drenched in sweat in no time. There was barely any traffic, but that didn't keep me from worrying. I was focusing very hard on staying within my lines. Holy smokes! I never thought it would be difficult to stay within the lines while driving, but, then again, I've never driven such an enormous vehicle before.
In my little red Honda, I had lots of wiggle room to float around within my lane. In this beast, it feels like I have mere inches on each side. I was zeroed in on my mirrors and focusing just to drive. Then, the hills started. Great. Now I had to manage my speed, people passing me, and worrying about the RV overheating while climbing 1000 feet every few minutes in the middle of Death Valley.
Then, the drive started going downhill. Even more nuts! When we finally reached the California/Nevada State Line in Primm, NV and I handed the keys over to Kenny, I felt accomplished. It wasn't easy, but I did it. And, I knew I'd be more confident the next time I sat behind the wheel..
Related Articles
Share
About Author
(1) Reader Comment