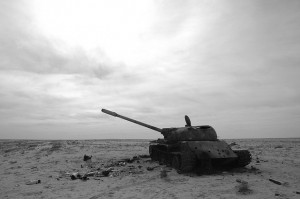 The war in Iraq is over. Not officially, but you know, it's over. Thankfully.
It's not that we have accomplished all we hoped to and can now leave with peace and order restored, but more like we really messed up, terrorized a region and realized it was all done to propel hidden agendas like extravagant spending on defense when it was more offense than defense. Anyways, we are finally leaving and that is reason enough to celebrate.
The war started almost a decade ago, and I remember the night specifically as it was my father's 50th birthday. This should have been reason to celebrate, but hey, our country had declared war on Saddam Hussein for bombing the twin towers. This story didn't hold up then, and we now see it was a manufactured reason for a Bush to finally take out Saddam.
On this night of joy, I turned sour. My family was trying to celebrate (as they should on a 50th birthday) but I in turn was furious, frustrated and outspoken on the fact that our President had the ability to ignore Congress, to ignore the U.N. and basically 'go rogue' as Palin would say, and start his own war, with his own agenda.
At that time, I knew this was a bad scenario. I didn't know how bad it would become. The Congressional Budget Office reported in 2007 that the war would cost us nearly $2 trillion dollars. I can't comprehend that number, but I know it is a lot. When facing a deep recession, it is easy to see that the money spent on fighting an unnecessary war could have been channeled into better things. Imagine how much better off we'd be as a country if that money was spent on education – $2 trillion dollars would have educated a lot of people, and in turn those people would be in much better shape to help our staggering economy. Just sayin'.
Beyond just military spending, we also have to deal with the cost of our reputation. As a traveler I was embarrassed to be an American, either withholding my home country or sheepishly acknowledging that I was from the good ol' USA. People around the world thought of us as pompous, arrogant, money-hungry tyrants. To be honest, I was starting to think the same thing.
Things have changed and we have acknowledged our faults, failures and the fact that the entire war was unnecessary and detrimental to our country and the world as a whole. It was just a shame that it had to happen in the first place.
We are leaving Iraq without accomplishing the goals that were set forward. The once proud country is still in disarray. Some of the best museums in the world were looted and some of the great relics of the past lost forever. The country is still trying to find its way. They will have to do so without us.
I don't know what will happen with Iraq, and I apologize to anyone and everyone for what my country has done. I do know this. I am happy we are leaving, and hopefully future generations will learn from this. JUST AS WE SHOULD HAVE ALREADY LEARNED FROM VIETNAM.
And, to the military members and families that have had to deal with sons, daughters, husbands and wives in the middle of this mess, I apologize to you as well. Thank you for your hard work and dedication to our country. Hopefully our future leaders will recognize what you mean to us and will not use you as pawns in this heartless game.
Total deaths: Between 110,663 and 119,380
U.S. deaths: 4,394
U.S. wounded: 31,768
###
**Did you like this article? For more, subscribe via RSS or email or Follow us on Facebook.
Related Articles
Share
About Author
(0) Readers Comments