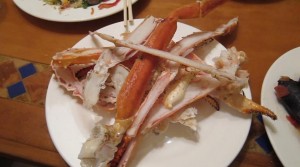 While in Las Vegas, we had to splurge on one of the nice buffets. We were in need of sustenance and wanted to get down on some crab legs!
The Buffet at the Bellagio didn't disappoint. With tons of fresh cooking stations, from Italian to Japanese, there was plenty to choose from. I find buffets completely overwhelming, so was stoked that Kenny took the wheel. He coursed it out for us and we had an outstanding meal! I literally sat at the table and had him serve me, it was perfect.
Appetizers – Kenny filled our plates with cold seafood salads, lox, Asian pickles, seaweed & more.
Salad – A mix of green salads, couscous salad, pasta salad…
Entrée 1, 2, 3 – Crab legs! Multiple plates were consumed.
Entrée 4 – Seafood stew and mussels.
Entrée 5 – Mix of ravioli and pasta. We didn't have too much room left by this time.
Dessert – Okay, I got off my rump for this one to help choose. Here are the desserts I remember eating: carrot cake, crème brelee, fudge brownie, fruit tart, cheesecake, tiramisu, the list goes on…
We left the Bellagio feeling like we had a tasty, quality meal where we were stuffed but still feeling good. This is a great buffet, a little lacking in ambiance, but we would still recommend it to others visiting Vegas (although I still think I may like the Wynn's buffet better!).
Related Articles
Share
About Author
(1) Reader Comment