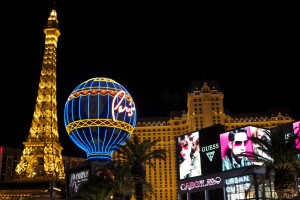 We rolled into Las Vegas absolutely roasting after our drive through Death Valley, figuring out the dumping station, and killing the car battery. We learned a bunch of RV lessons, but were ready to regroup and get our feet under us.
So, we caved and booked a hotel room for three days. We didn't feel too guilty since the RV parks were practically the same price. This way we were in air conditioning and could set up our computers comfortably.
Fremont Street Experience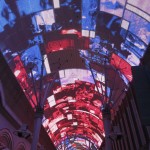 The Fremont Street Experience is a 5-block section of Fremont Street canopied under the world's largest LED screen. It creates a domed ceiling over the walkway that runs between all of the casinos. The zipline that runs above makes it almost feel like an amusement park with people ziplining above you, screaming their heads off.
All night the screen is lit up with random shapes, patterns and sometimes ads, but what you're really there for is the 15-minute 'show' that happens every hour on the hour beginning at 8 p.m.
Everything stops. The lights turn off. People come out of the casinos, the police stop traffic and everyone looks up. The music starts and the themed light show begins. It's really hard to explain, but definitely something to experience. I was stoked to see The Doors show when we first arrived.
Fremont Street is the place to check out the Vegas of the 1950s (minus the upgrade of the enormous LED screen!). You've got the old-school casinos, cheap grub and glitzy entertainment. Get off The Strip and check it out next time you're in Vegas..
Related Articles
Share
About Author
(1) Reader Comment