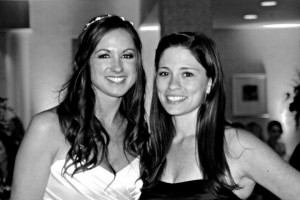 We've been MIA on the blog for the last several days, but for a very good reason. This weekend my butt buddy, best friend from high school, Ms. Kayla McGill, got married and became Mrs. Kayla Kerza. It was an awesome weekend from beginning to end, but now I'm exhausted.
Thursday – Rehearsal
It started off with a crazy Thursday for Kenny & I dealing with the RV. (I won't go into details here, but check out Kenny's blog about the RV.) I rushed out to get to LA ASAP so Kay & I could get our nails done and get ready together for the rehearsal.
Everyone met at the chapel for the rehearsal. The beautiful location that Kayla chose to get married had everyone in awe; Wayfarers Chapel in Rancho Palos Verdes just may be one of the most beautiful places I've ever seen. The chapel itself is wooden beams and high glass walls. The sun shines through, but it's also shaded by the large redwood trees and there is a gorgeous view of the ocean. The perfect blend of nature and astounding architectural elements.
After the rehearsal was, of course, the rehearsal dinner. This was a great way to bring together their families and friends and introduce everyone before the big day. I was excited for Kenny to meet Kayla's family and friends that have been a huge part of my life as well. Kenny made it just in time for the meal after his madness of an RV day (check his blog).
Well, it was mine and Kayla's sister's responsibility to have her in bed by 11 p.m. on her wedding night. Whoops. 3:30 a.m. rolled around and we figured it was time to crawl to bed. She'll be fine, the wedding's not until 4 p.m…
Friday – Wedding!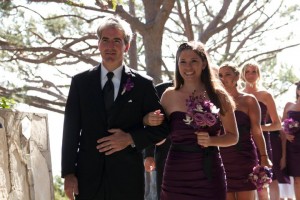 Kenny & I wake up the morning of the wedding (our first night in the RV) to lots of surprises. #1 Ticket on the RV for $125 for oversized vehicle parking. #2 Ticket on Kenny's car for parking restrictions. #3 The hotel has no record of my reservation even though I have a confirmation number and email. Sweet! NOT. It took awhile, but we figured it all out and finally checked into the hotel.
I had a great afternoon with Kayla and the ladies in her suite, drinking champagne, eating room service, getting our makeup and hair done. Before we knew it, it was time to get Kay in her dress and leave for the chapel.
Absolutely stunning. Not much else to say. Kayla is a gorgeous woman. And, with her hair and makeup done just right and the beautiful wedding dress that she chose, she was literally a doll. What a gorgeous bride.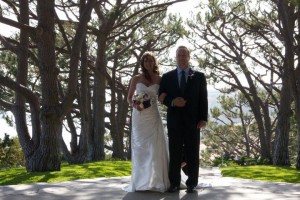 In no time I find myself standing at the edge of the chapel, lined up with Paul's cousin, about to walk down the aisle at my best friend's wedding, the tears were already welling up. I had to focus on making it through the ceremony and keeping it together. Finally, they cue us to start walking and the music changes. We start our march down the aisle. I go and stand in position, waiting for my best friend to make her way down.
Kayla steps up to the threshold of the chapel with her father. It is breathtaking! The spectacular chapel with a backdrop of the redwood trees and Pacific Ocean. The sun is glowing behind them and she looks like an angel. The music begins, and everyone stands as she walks down the aisle. Paul's eyes are already red-rimmed and tearing up.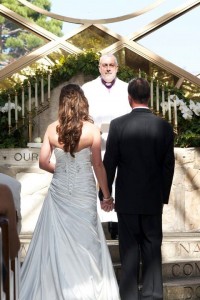 The ceremony was beautiful and simple, just like the chapel it was held in.
As soon as it was over, the bridal party took off for the beach to take some fun photos. We had a great time running around and got some great action photos. But, what made it extra special were the dolphins. so many of them, and they put on a show for us! There were about 10 huge, gray dolphins, and at any given moment, you could see up to three jumping at the same time. They got so active, that you couldn't count to 10 without seeing one. I've never seen such a sight. The best part about it, was that Kayla's little sisters (6 and 7 years old) were there to see it, as well. They were shrieking and hootin' and hollerin' (as we all were).
We returned to the hotel and had a wonderful reception for the newlyweds, Kayla & Paul. Speeches, toasts, the first dance, but I think Kayla's little sister stole the show. Seven years old, and she danced all night.
Saturday – House Party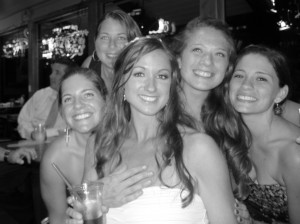 With all of their family and friends in from out of town, Kayla & Paul wanted to take the chance to show off their house that they've put so much work into. They hosted a poolside party with a taco bar and lots of booze. It was a great way to get everyone back together once more before taking off for their long journeys back home. The party was much mellower than the previous two nights, and a great way to end the celebration.
The weekend was jam-packed with fun and long nights spent with friends. I'm tired to the bone, have a swollen throat and feel sore for no apparent reason. I would expect nothing less from a great celebration thrown by Ms. Kayla McGill, whoops, I mean Mrs. Kayla Kerza-Kwiatecki!
Congratulations, Kayla & Paul! Thank you for the great weekend. I wish you all the love and happiness in the world!.
Related Articles
Share
About Author
(2) Readers Comments