When we arrived in Zion, we weren't exactly sure what we were going to do, but we left three days later as two very happy campers. Three days was nearly perfect to see and do most of  Zion National Park. Of course, if you are lucky enough to have more time, you can have the park as your playground.
We were able to find a camping spot in Watchman Campground inside the park, there was electric and water hookups and public restrooms, and all for only $20 a night.
This is our guide to Zion in three days.
Day #1 – Get Settled, Enjoy the River, Take a Short Hike
Get your bearings at the park, get settled into your campsite, then go explore.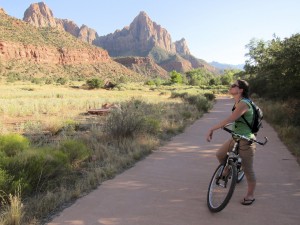 Take the Pa'rus Trail from the campground (or Visitor Center) and walk along the Virgin River. There are some great River Access spots. The water was clear, cold, clean and flowing. Very picturesque, and with so many places to stop along the trail, you were pretty much guaranteed a spot to yourself.
The scenery is breathtaking and something simple like this walk is a great way to get accustomed to the beauty you're surrounding yourself with.
Bonus: If you're feeling extra ambitious, head out on the free Zion shuttle to the trail head for the Emerald Pools. Once here, you can decide on a short 1 mile hike to the Lower Emerald Pool, or a longer, and bit more strenuous hike on up to the Upper Emerald Pool and back down the Grotto Trail. Even at its longest, it shouldn't take more than 2 hours, and is a great way to ease into the longer hikes ahead.
Day #2 – The Narrows or Angel's Landing
Take on one of the 'big' hikes. The two most popular (and strenuous) hikes in Zion are The Narrows and Angel's Landing. We went for The Narrows.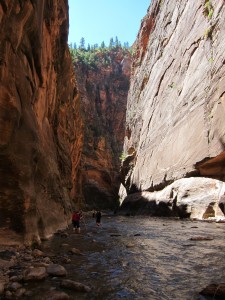 The Narrows hike in its entirety is 16 miles. There are two options for doing the full hike. One with an overnight stay, or another where you get dropped off at the top early in the morning and take all day to hike down. Both sound pretty wild, but I might be down to try the overnight one on another trip.
This time, we opted to only hike a section and go 'Bottom-Up'. To do this, you take the Zion Shuttle bus to the last stop, walk about a mile to the end of the paved trail and start hiking up the canyon right there in the river! It's more 'canyoning' than hiking, with more than 60% of the hike all in water.
Preparations: Wear close-toed, water-walking shoes and bring a hiking stick. These are essential to enjoying your hike in The Narrows.
Taking this option, you hike in as far as you'd like, then turn around and hike back out. We made it to Wall Street, a section of the canyon where it gets really narrow and the walls are literally 20 feet away from each other and shooting right up around you. It feels like you are in narrow passageways of a giant's maze.
It was a thrilling experience. I kept stopping and telling Kenny, "This is so awesome! Really, this is awesome!" Hiking through the river, troubleshooting our way through different obstacles, and finally making it to Wall Street was an accomplishment and I'm so happy that we did it. Do not miss this experience if you travel to Zion.
Our hike from the bottom to Wall Street and back, took us about 4 hours. This was at a pretty good pace with several stops to snack and rest. Add an extra hour for the shuttle ride.
While The Narrows are at the base of the canyon, Angel's Peak is up on top of it, way up on top of it. We didn't make it there, but have heard stories of the long hike up and the steep drops down. If we had one more day, we'd have done this, too…well, we would have attempted it at least.
Day #3 – The 'Other' Big Hike / Relax / Bike Ride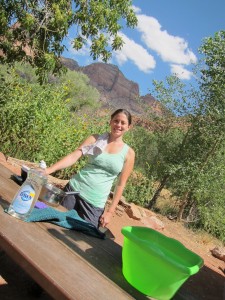 Day 3 is up to you and how you're feeling after your big hike on Day 2. If you're still full of energy and ready to go, check out the other long hike and take full advantage of your time at Zion National Park.
If you're like us, you'll want some down time after your two busy days. Relaxing, hanging around your campsite and just taking in the beauty is a great day in itself. You could also take the Zion shuttle to some of the stops that don't take much exertion to explore. Just riding the shuttle gives you great vistas of the canyon.
Biking
If you have your bikes, riding down the hill from the last shuttle stop, Temple of Sinawava, is a great ride. Head over to the nearest shuttle stop, strap your bikes into the front of the shuttle and ride all the way up. Get off at the top, hop on your bikes and ride on down while taking in the natural beauty that Zion provides. The bike ride from the top down to the Visitor Center should take about 30 minutes.
Tip: The Pa'rus Trail and the main road are the only places in Zion where you can ride bikes. We definitely enjoyed riding, but we wouldn't necessarily recommend bringing your bikes if Zion is your only destination. You can fully enjoy the park on foot.
Summary
Zion is a National Park and that means there are lots of areas to explore. Do it as you see fit. To some, a day or two is all that is needed, for others a week just isn't enough. You can also take the 15 freeway to Kolob Canyons on the north west edge of the park, or go camping at Lava Point Campground up north or take a car through the tunnel and head out east toward Mt. Carmel Junction. However, if you are there for three days or less, it's probably best to just park it, and let the shuttle take you where you want to go.
Hopefully this helps you if you make it out to Zion, we wish we had this information before arriving!.
Related Articles
Share
About Author
(1) Reader Comment