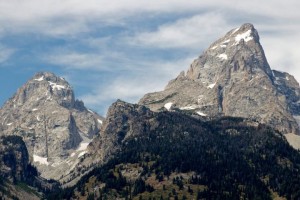 Keith Watts of Earth Tours took us around for the day in the Grand Teton National Park.
We were already overly grateful to him because he suggested that we stay at Atherton Creek campground in the Bridger-Teton National Forest and we were in love with the place. We didn't want to leave.
But, then he arrived to take us around Grand Teton National Park for the day and we got to chatting. Keith is a character. He is extremely intelligent, with his doctorate in geology, so when he's explaining what's going on around you, you know that he knows what he's saying. He's definitely more than a tour guide, he's an invaluable resource.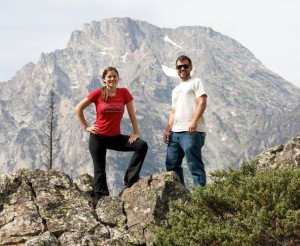 We were staying on Slide Lake, so the first story he told us was about the Gros Ventre Slide and how the lake was created back in the day. This story was complete with outfit, accent and complete transformation by Keith. That's all I'm going to say and make you wait for the video on this one!
The day was jam-packed with learning and allowing us to ask any questions that came to our minds. It was so exciting to be able to ask these questions and actually get answers! Usually it's just Kenny and I bantering back and forth about "Well, why do you think that this is…?" But, with Keith there, we were getting answers!
We learned that not only do the 'Grand Tetons' sound like it's referring to 'ta-tas', but they really are! 'Teton' in French means 'teat'! French trappers named the mountains years ago and the name has stuck. Who knew we were being crass all this time? Apparently, French tourists love to buy t-shirts and other 'Grand Tetons' paraphernalia. Who wouldn't? That's hilarious! Silly Americans don't even know what we're saying…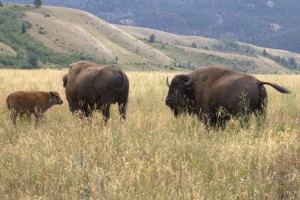 Our day was filled with wildlife sightings – two female bison and their calves, plenty of antelope and some elk to boot. Then, we learned lots about the effect of the glaciers on the three peaks of the Grand Tetons. And a 'secret' hike to one of Keith's favorite places that we were sworn to secrecy about. We hiked in toward the mountains and came to a clearing where it felt like we were in another world. It was amazing. Time stopped and we enjoyed the view while Keith gathered some huckleberries for us to try.
We had an amazing day discovering the Grand Teton National Park and picking the brain of our gracious guide, Keith Watts. If you are visiting the Wyoming area look up Earth Tours and have Keith show you around the Grand Tetons or Yellowstone National Park.
He does some pretty cool trips like sunset wildlife safaris, but what really caught my interest was Fossil fishing! You go to this old river bed and search through the rocks for perfectly fossilized fish. You always find something great and you can keep them, too! Sounds like a great day for adults or kids alike.
In the fall and winter he also does tours in Southern Utah. Quite the renaissance man and never a dull moment, I definitely recommending looking up Keith (Earth Tours) for your guide if visiting the Grand Teton National Park, Yellowstone National Park, or Southern Utah.
Thanks Keith for your hospitality! Be on the look-out for our fun videos of Keith in the coming weeks..
Related Articles
Share
About Author
(0) Readers Comments