After learning how to fly fish with Chris at Grey Cliffs Ranch, we were ready to go fishing on our own. We headed out of Missoula and toward Rock Creek, a Blue Ribbon fishery about 25 miles east of Missoula where we were assured to catch some trout.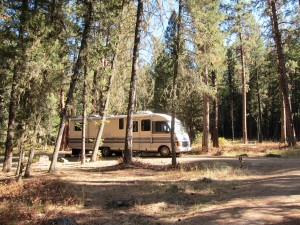 The fishing spots at Rock Creek are in the Lolo National Forest, in the famed area of the movie, A River Runs Through It. We met a camp host and he advised us to head up to Grizzly Campground for great fishing and atmosphere. Grizzly Campground was expansive with lots of space between each site and fully wooded. The best part was that it was the last week of September and no one was around since the campgrounds were closing the next day. It was amazingly silent and completely picturesque. Yes, this was where we were going to stay.
We got settled in and headed to the fishing spot where the camp host suggested. He also told a story that the reason he got the job as camp host is that last year he spent a lot of time at Grizzly and was reporting grizzly sightings so often that he got to know the rangers and got offered the job. Yikes!
So, now here we are at 'Grizzly' Campground, alone. We set off to hike to find our fishing spot and we're both whistling our heads off even more than usual. (They tell you to whistle, clap, sing, or keep talking so as to not startle the bears. It's much better if they know that you're coming.)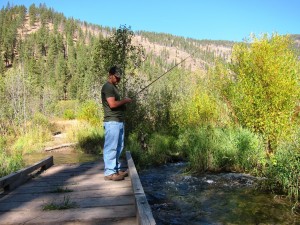 We make it down to the creek and it's unreal. We're in the middle of brush, long grasses, trees, and there is a bubbling brook. Rocks everywhere and flowing, clear water. Gorgeous. But no fish to be seen. We think we've found the right spot, so we stop and Kenny tries to fish for awhile. To no avail. So we head deeper in, find a different bridge and try from there. We keep getting deeper and deeper into the land, whistling the whole way of course, but still not seeing any fish. We spent hours and hours hiking, fishing, hiking, fishing and not seeing a fish the entire day never mind catching one!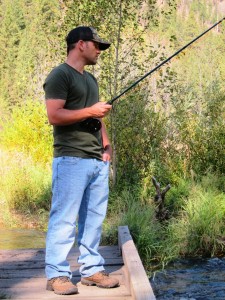 It was a beautiful way to see the scenery around Rock Creek and experience the Montana wilderness, but definitely not what we were expecting. Especially after coming from fishing stocked ponds on the ranch at Grey Cliffs and hearing about this Blue Ribbon creek and all of the 'catch-able trout' we would find.
Apparently, our fish-hole-finding skills aren't honed to perfection, or at all, but I still enjoyed my jaunt through the woods. Kenny, on the other hand, was disappointed to come up fish-less on his first guide-less attempt at fishing. Oh well, at least we didn't get eaten by any Grizzlies!
A fishing paradise in scenery, but not in a fisherman's eyes. We can't all win!
Have you ever been fly fishing on your own? Were you successful? Tell us about it in the comments.
###
Related Articles
Share
About Author
(2) Readers Comments