It's spring. That means the crack of the bat. Baseball, baseball, baseball.
During my childhood, my spring (and summer!) was filled with going back and forth to the baseball field to watch my brother play and to the softball field for my own games. We were always a baseball family.
And, of course, growing up in New England came along with a Boston Red Sox addiction. Compounded by my attending Boston University, and my dad's family hailing from New Hampshire, Red Sox nation is in my blood.
Needless to say, Fenway Park is one of the most esteemed, old school baseball stadiums in the country. (It is the oldest operating ballpark in the country.) It holds a mere 37,000 patrons and sells out every game. It's a unique place to watch a game and it makes it all the better when it's your team out on the field.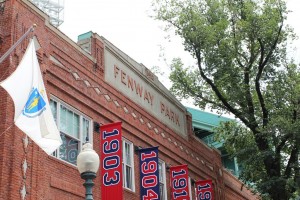 Today is Opening Day at Fenway Park for the Red Sox, playing the Tampa Bay Rays.
Fenway Park celebrates its 100 year anniversary next week on April 20.
If you're lucky enough to make it out to Boston for a game, don't miss it. The ballpark has barely changed since it went up in 1912. The nostalgia of baseball's history oozes out of the stadium, with the manually operated scoreboard, Green Monster, brick construction and much, much more.
If there doesn't happen to be a game when you're in Boston, you can always take a tour.
Kenny still blames me for the time we were in town and didn't make it to the game. Don't let this happen to you. Don't miss out on Fenway Park.
###
Green Monster pic via wallyg
Gate pic via thomasglobal.
Related Articles
Share
About Author
(0) Readers Comments