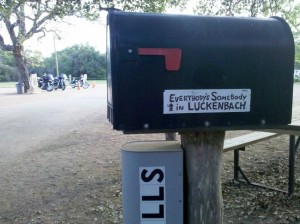 Luckenbach is a small music outpost in the Hill Country of Texas about 90 minutes outside of Austin. Many people know about Luckenbach because of an old song by Willie Nelson and Waylon Jennings of the same name, "Let's go to Luckenbach Texas, with Willie and Waylon and the boys…" I am not sure if the town would have the same notoriety if not for that song. But never mind, the song does exist, and the town is now a small part of Americana.
There is a post office, a bar and a sign that says, "Everybody's Somebody in Luckenbach." There is a dance hall, a creek and cowboy hats; heck, there's even a cowboy hat store. Luckenbach has a population of 3. I am not sure who they are or where they live, but any town with a post office and a population of 3 is pretty darn cool if you ask me.
Luckenbach is a perfect place to stop if you are taking a leisurely stroll through Hill Country. Have a beer, have a bite and listen to some good ol' country music. If you want to make it a destination, wait for one of the big concerts they have monthly. Either way, if you can, stop by Luckenbach, where everybody is somebody.
Find dates of upcoming concerts and more information here: http://www.luckenbachtexas.com/
Listen to the famed song here: http://youtu.be/3dXR5Dk8YNw
###
Related Articles
Share
About Author
(0) Readers Comments