Day 3 made it seem like we never left San Diego. Kenny woke up early and got in a round at his favorite course, Torrey Pines. I woke up and got some work done.
When he returned, we had some errands to do, so what better place than our old stompin' grounds and home, Ocean Beach? We did our laundry, got my bike tire fixed and chatted it up at the shop, ate some fish tacos at South Beach and had a bean and cheese burrito at El Rodeo.
We walked the pier, walked the neighborhood, visited The Black, hung out at Jungle Java, commented on all that has changed and all that is exactly the same. We visited our old apartment building and lamented. All in all, it was a great nostalgic day in our love, OB.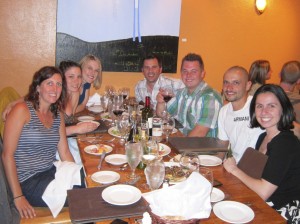 The perfect ending to this day was having our farewell dinner with friends at Kenny's old work, Buon Appetito. We had a wonderful meal with great company. The weird thing for Kenny was that everyone who worked there was exactly the same – they didn't even change positions.
It was a great Day 3, but we were still waiting to hear back on the status of our two RVs in limbo….
Related Articles
Share
About Author
(1) Reader Comment