Okay, so maybe Day 1 didn't go as planned. We thought that we'd already have an RV for the first day of the American Odyssey, but that didn't really work out. Instead, we spent all day yesterday dotting the 'i's and crossing the 't's on the 'good' ones still on Kenny's list. This ran us around Pomona, Ontario, Costa Mesa and Carlsbad.
On our way back toward San Diego, we decided that the #1 on our list was the Georgie Boy. We were on our way to go see it. We give them a call and hear that there's a deposit on it. Absolutely heartbreaking. After days and hours of deliberation, we finally decided on this one, just to have it snatched away. There wasn't much conversation on our way to San Diego, to say the least.
After trying to clear the air, we decide to pull it together and go visit another good prospect in Carlsbad that we hadn't yet seen. Without much expectation at all, we roll up to this RV and walk in. Almost instantaneously, I think we both felt that this vehicle was 'it'. It had been taken care of very well by its two owners, inside and out, no mechanical issues, lots of niceties included. And, it drove nicely!
On our test drive, the current owner rode it for awhile and everything was great. Then, Ken got behind the wheel to try it out. Everything seemed to be going fine until the driver of the car next to us started honking and pointing to the wheel saying, "You're smoking!" Literally, smoke was billowing from under the vehicle. We pull over into the Home Depot parking lot and find out that it's definitely coming from the wheel well. We can see that the rotor is a bright, burning orange, it was practically on fire. There was some sort of intense friction going on there.
That's when we realized that out of the three of us – NONE of us had a cell phone. The men both left theirs in their cars, and mine had died hours ago. The seller borrowed someone's cell phone and called for his wife to come pick us up.
It was a sad ride back. This guy wanted to sell his RV and we really, really wanted to buy it. We are still waiting to hear back from him today to see if the issue is just minor and can be fixed quickly, but I think we both know that's just wishful thinking.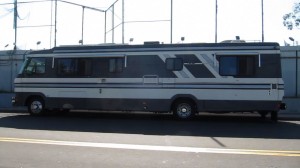 Well, there are two still on the table. The Monaco and the Rockwood we listed in yesterday's post. Hopefully one of these work out today. We'll keep you in the loop!.
Related Articles
Share
About Author
(0) Readers Comments