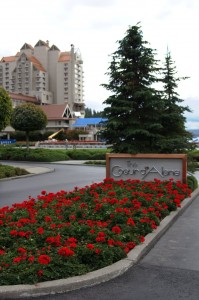 Coeur d'Alene, Idaho – A town so nice that it even sounds beautiful. Maybe it was because we were coming from the rugged, untouched beauty of Montana and Wyoming, but there was something off about Coeur d'Alene (CDA).
The town is stunning, in a lush area of the state, surrounded by lakes, and has the shimmering Lake Coeur d'Alene featured right downtown. Downtown itself was beautiful. Nice storefronts, clean cobblestone streets, pristine sidewalks, you'd be troubled to find a bike rack (eye sore!) and dogs aren't allowed in any of the public parks downtown. Against the backdrop of the lake, the colors popped – the green of the grass, the colors of the flowers, vibrant. Everything was just well done.
You would think this would be utopian, right? But, it left us dissonant. It was too overdone. Everything was made and regulated to be 'just so' and instead of the Eden I'm sure they were striving to create, what was left behind was a pretty downtown devoid of character. It left me feeling empty and wanting more.
Don't get me wrong, CDA is definitely not a bad place to visit. You can do lots of shopping (or window shopping), grab a great cup of coffee and, of course, enjoy the lake and the parks. The big draw and why we made the stop was the golf course at the Coeur d'Alene Golf Resort and its floating green on Hole 14. Kenny enjoyed the golf (including caddy!), and I enjoyed the day in another beautiful place.
Don't let me get you down, go and enjoy CDA. It was a beautiful day and Ken will tell you it was a great round of golf, but we were overwhelmed with the perfect prettiness of it all. Little did we know where we were headed next: Seedy Spokane…
###
Related Articles
Share
About Author
(0) Readers Comments