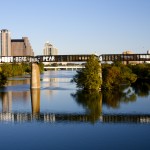 I love college towns. Whenever I visit a new one, I fall in love. I used to think I was clinging on to my youth and my wonderful years at Boston University, but as I approach 30 and still love these towns, I realize that it's deeper than that.
College towns are progressive. They are centered on furthering education and intellectual pursuits. Music, art, and history are all important. They're filled with great cafes, book stores, cheap eats and people willing to debate and chat. The idea of being progressive fills every moment and step in life. This is what I love.
We live in Austin, one of the best college towns, and in our travels we've come across plenty, but where the idea was really cemented for me was in Missoula, MT.
The University of Montana consumes this town. And it feels great. I had never been there, or Montana for that matter, and we arrived on Homecoming weekend and felt like we were part of the party. This kind of thing seems to always happen in college towns.
I'm looking forward to seeing more of these towns across the U.S. Here are some that I've seen, found and fell in love with:
Missoula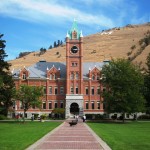 Missoula, MT is the home of the University of Montana – Grizzly country. This Rocky Mountain West town of about 60,000 is the cultural center of the state and a recreational mecca. On any given day you could go rafting, skiing, hiking, biking, or attend gallery nights, poetry readings, concerts and plays. It provides a great example of the perfect storm of atmosphere that a college town can create.
We experienced their Homecoming football games with extreme RV tailgating and their tradition of "tossing Twinkies" each time their team scores a touchdown or extra point.
The school and football rule this town. There was plenty of music, cafes and book stores to keep us busy. Seems like a great place to visit or live in Montana.
Bozeman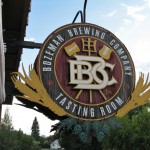 Bozeman, Montana is the home of Montana State University, the Bobcats. Bozeman has a quintessential, cute, quirky college town downtown. It's filled with boutiques, craft stores, cafes, a co-op and breweries. Not to mention some local Montana flair with fly fishing shops and outfitters dotted throughout.
There is no rough edge to Bozeman, just all nice, green and pretty. It's a comfortable place where you can eat healthily, stay active and stay on top of your game. We enjoyed our time in this town that reminded us of another college town in California.
Check out some ways to 'Keep it Local' in Bozeman in our blog post.
San Luis Obispo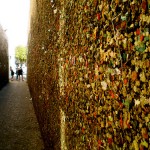 San Luis Obispo, CA is the home to California Polytechnic State University, or Cal Poly, as everyone calls it. This school known for both agriculture and engineering makes this small town vibrant. The downtown is perfect, with a great balance of bars, restaurants, cafes and shops with an active Thursday night farmer's market.
In the true essence of entrepreneurship and the expanding minds of students, SLO is also the birthplace of the now famous chain, Jamba Juice. To add to the quirky charm of a quaint college town, check out the one-of-a-kind Bubble Gum alley, where the walls are covered in chewed gum.
SLO snuck up on me as a great stop on my cross-country trip with some girlfriends after graduating college. It still holds a special place in my heart and happens to be just minutes away from Kenny's hometown, Santa Maria!
Boulder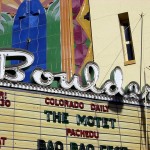 Boulder, CO is the home to University of Colorado, the Buffs. Boulder is ranked as one of the smartest and healthiest cities in America. The city itself is nestled in the mountains, so no matter what time of year, you have something active to keep you busy.
While in town you'll likely spend your time walking the Pearl Street Mall, filled with anything you could want and always busy with street fairs, markets and festivals. The boutiques, shops and cafes are endless and could keep you busy for days. The best part of Boulder is being in a city and breathing the fresh, crisp air!
Ones I'd like to visit: Chapel Hill, NC; Madison, WI; Athens, GA; Ann Arbor, MI; Tuscaloosa, AL
###
'Boulder' photo courtesy of telstar
'Bozeman Brewing Company' photo courtesy of Travis S.
'Bubblegum Alley' photo courtesy of lostintheredwoods.
Related Articles
Share
About Author
(0) Readers Comments