Sometimes I feel that Ken bought the house in Austin where he did because of the food. Seriously, we couldn't have chose a better place for cheap, Asian food, which is what we love to get down on. We are in the mecca and definitely take advantage of it.
Since we obsess over food, and the North Austin Asian restaurants have become our 'kitchen' on a many a night with their cheap, grub eats, we're going to share with you some of our favorites.
1. Tam Deli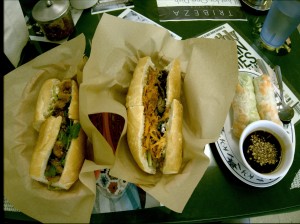 8222 N. Lamar Blvd.
Austin, TX 78753
(512) 834-6458
The battle of the banh mi. Tam Deli has the best banh mi in Austin. I'll have banh mi at Pho Van from time to time, but it just doesn't do the trick for me. Banh Mi at Tam Deli. The perfect ending to the meal is one of their cream puffs.
The grilled pork, with pickled vegetables, cilantro and jalapeno, on warm and crunchy bread. It's just perfect. Ken usually gets the garlic shrimp banh mi and he says that it's addicting.
I also usually get what I've dubbed 'crack', aka Vietnamese iced coffee. Yum! It's espresso with sweetened condensed milkover ice. Sweet and strong!
Usual meal: Grilled pork banh mi, garlic shrimp banh mi, Vietnamese iced coffee, cream puffs
2. Pho Van
8557 Research Blvd.
Austin, TX 78758
(512) 832-5595
Pho Van is our go-to pho place in the neighborhood. They have generous portions for a nice $6 per bowl. I usually get the standard beef flank, while Ken gets the tofu and broccoli. It's hilarious because even though we go in there quite often, they still always try to give me the tofu and him the meat. Figures.
The broth is really tasty, not too salty and the people are super nice. Our favorite is the waitress that seems to always be working, who calls everyone 'madam', male or female.
Pho Van is a great, cheap option for pho up north and we've made it part of our stomping grounds. Again, I like to get my crack here, and every so often we'll have the banh mi here as well, but it can't touch Tam Deli in that department. Their Bun Thit Nuong, cold vermicelli with grilled pork, egg rolls and fish sauce is also very good. Definitely try it out.
Usual meal: Beef flank pho, Broccoli & Tofu pho; Vietnamese iced coffee
3. T & S Seafood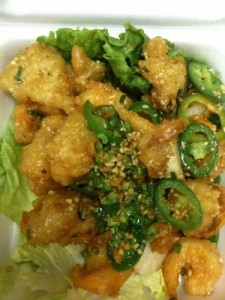 10014 N. Lamar Blvd.
Austin, TX 78753
(512) 339-8434
After continuous suggestions that we check out T & S, we finally did. And, now we've been back pretty much every week since. It's a Chinese restaurant on N. Lamar that has all the expected Chinese food, but with a focus on seafood. The menu is split into the Cantonese style and non-Cantonese. It may look like it's redundant, but it's not. They're known for their salt & pepper shrimp, and there's a reason why. It's so delicious. The battered shrimp is the right balance of saltiness and the garlic and jalapeno goodness makes it extra tasty.
Usual meal: Salt & pepper shrimp, no shells. Crab soup, split in 2. Chinese broccoli with oyster sauce.
4. Korean Grill
10901 N. Lamar Blvd.
Austin, TX 78753
(512) 339-0234
Another place that we frequent close to once a week. And, we still can't get the name right, it's something generic with Korea in the name. All we know is that it's tasty, cheap and the family that runs it are really friendly. The owner always likes to tell us how to eat our food. If we get bibimbap, he comes over to scrape the burning rice on the bowl. He comments on how much fish we leave on the bones of our mackerel. He digs in and lets you know. It may cross some comfort boundaries, but I'm okay with it. He's a kind man and just trying to show us the way. The pickle dishes keep us coming back.
Usual meal: Grilled Alaskan mackerel, seafood bibimbap or seafood tofu stew; lots of pickle dishes, whatever they bring!
5. Titaya's Thai Cuisine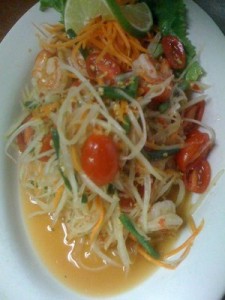 5501 N. Lamar Blvd.
Austin, TX 78751
(512) 458-1792
www.titayasthaicuisine.com
The best Thai place in town, hands down. Everything I've had here has had the right taste and has just been dead on. After working at a Thai restaurant for years and spending 5 weeks in Thailand, I know my tastes and they get it right. The restaurant is definitely a step above the others on this list, with an actual attempt on decor and ambiance, but it's still just a huge open room with tables crowded in. You really can't go wrong with what you order here, which has lead us to try a number of items on the menu, but we still have our usual suspects.
Usual meal: Som tum (papaya salad), Yellow curry with tofu, Pad Kee Mao with shrimp, and Mango sticky rice if we're feeling sweet!
Some honorable mentions for other great North Austin Asian restaurants:
Din Ho
8557 Research Blvd.
Austin, TX 78758
(512) 832-8788
www.dinhochinesebbq.com
CoCo's
8557 Research Blvd.
Austin, TX 78758
(512) 833-6588
cocos-cafe.com
Zen Japanese Fast Food
2900 W. Anderson Ln.
Austin, TX 78757
(512) 451-4811
Shanghai Restaurant
6718 Middle Fiskville Rd.
Austin, TX 78752
(512) 458-8088
Tan My
1601 Ohlen Rd.
Austin, TX 78758
(512) 832-9585
Living up North near all of these great Asian restaurants has been awesome for us here in Austin. We loved it and really settled right in.
What are your favorite Asian restaurants in Austin?.
Related Articles
Share
About Author
(0) Readers Comments