Despite being a land-locked city, Austin has plenty of places to hide from the heat and jump in the water. On the hot summer days they are what make Austin bearable. Luckily there are plenty of pools, rivers, lakes and waterin' holes.
Here are some great ways to escape the heat and get wet in and around Austin…
1. Town Lake/Lady Bird Lake
South of 1st, North of Riverside Dr.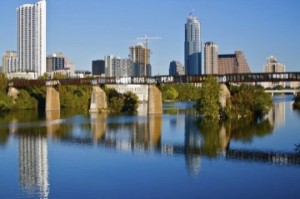 Lady Bird Lake or Town Lake as most locals call it, is the town's pride. It's in the heart of the city, splitting the North and South sides. The Hike and Bike Trail runs alongside it, and it provides some relief when you're running.
Town Lake is a perfect place for kayaking, stand-up paddling, canoeing and more. Just no motorized boats on this lake. The doggies love it, too.
I can't tell you how much nicer the city feels by having this lake in the midst of everything.
2. Barton Springs Pool
2101 Barton Springs Rd.
Austin, TX 78704
(512) 476-9044
http://www.ci.austin.tx.us/parks/bartonsprings.htm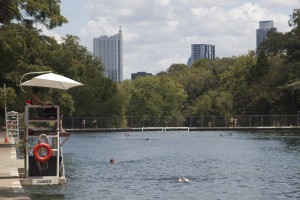 Barton Springs Pool is our beach in Austin. Okay, I know, it's not really a beach, but it's what we've got.
The 'beach' is a grassy hill where you can sprawl out on your beach towel and spend the day. The 'ocean' is a natural spring-fed pool that stays a cool 68 degrees all year round. Going to Barton Springs feels like a bit of a time warp. It's a retro feel and it's super refreshing on those hot summer days. I love me some Barton Springs.
It's open from early morning to late at night, and… they throw a pretty mean full moon party. But, just don't try to go on Thursdays – it's closed for cleaning.
3. Deep Eddy Pool
401 Deep Eddy Ave.
(512) 472-8546
www.deepeddy.org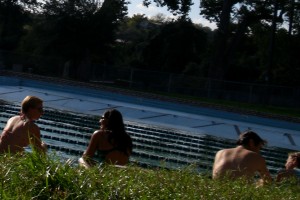 Deep Eddy Pool is Barton Springs 'Lite'. Deep Eddy is another spring-fed pool just down the street. The difference is, Deep Eddy more closely resembles a regular lap pool. It's a great place to exercise or bring the kiddies. But, there isn't much area for lounging around as in Barton Springs.
It's also right on Lady Bird Lake, so you can see the lake from the pool and walk up to the water's edge.
4. Lake Travis
West of the 620, lots of docks around the lake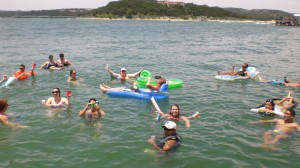 Lake Travis is the 'big' lake in town. Town Lake and Lake Austin feel more like rivers, since they're long and narrow. Then, there's Lake Travis, a big lake, a party lake.
Lake Travis is where you can take out the boat and have a great time. It's the place for swimming, recreation and nice houses. And then there's Devil's Cove, a place to park your boat, tie up with others, and party the afternoon away.
There are plenty of places to rent boats, and you have the choice of a small motorboat or big pontoon. How do you want to spend your day on the lake?
5. Guadalupe River – Float the river
Gruene Rd.
New Braunfels, TX 78130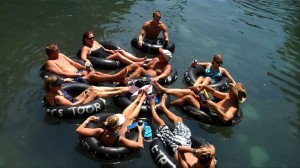 The Guadalupe River and the Comal River are about an hour drive out of town, between Austin and San Antonio, in the charming town of New Braunfels. This is where you go to 'float the river'.
You rent an inner tube and lazily float down the river as your cooler and friends float alongside you. It takes a few hours to make the loop,  so make sure you have plenty of sunblock, water and nutrition in addition to the booze you'll be consuming.
It's a party on the river so be prepared because it always proves to be a long day, so prepare for it. You can even camp down there in New Braunfels or rent a cabin.
6. Schlitterbahn Waterpark – New Braunfels
305 W Austin St.
New Braunfels, TX 78130
(830) 625-2351
www.schlitterbahn.com/nb/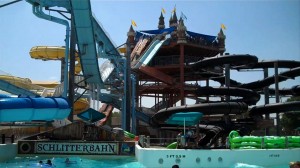 Schlitterbahn Waterpark in New Braunfels has been dubbed the #1 waterpark in the world. I'm no waterpark connoisseur, but this place was enormous with three separate parks.
With its sheer size, there is plenty to keep you busy – slides, lazy rivers, wave pools, rides, obstacle courses, you name it.
But a word to the wise, the Master Blaster is the park's signature ride and known as one of the best in the world – but it was not worth the hour and a half wait. The Black Knight was a shorter line and better ride, at least to me.
Go, get some sun, have fun, and pack a picnic because the concessions offered are slim pickings.
7. Hamilton Pool Nature Preserve
24300 Hamilton Pool Rd.
Dripping Springs, TX 78620
(512) 264-2740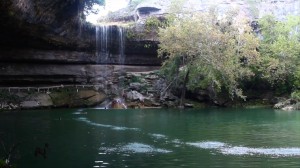 A true Texas swimming hole. Hamilton Pool is about a 45 minute drive outside of town. It's a natural preserve, so they only let 75 cars in at a time, so be sure to get there early to avoid a wait.
There's a short hike to get out to Hamilton, but when you step out into the clearing and see the pool it's breathtaking. It's a huge natural limestone grotto filled with natural spring water, glistening blue-green with a 45 foot waterfall raining down into the pool. It's a serene little oasis in the Hill Country and we're so happy that we found it. If you want to take a nice day trip out of town, this is highly recommended..
Related Articles
Share
About Author
(0) Readers Comments