As relative newbies to Austin, we've had tons of visitors that wanted to come and see what this town is about, and we always love to show them around. This is our list of the Top 7 Things to Do in Austin when visiting. Almost all of the places on the list are within the downtown area and it is possible to see and do them all in one day. But of course, the longer you have to stay in town, the more you can get to know the city.
Here's What to Do on a Trip to Austin…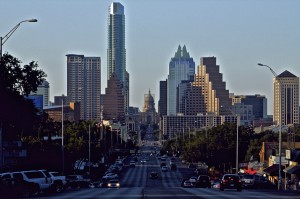 1. Capitol Building
1100 Congress Ave.
Austin, TX 78701
(512) 463-0001
www.tspb.state.tx.us
Even though politically, Austin may stray from the rest of the state, it still remains the capital city of Texas. If you're making a trip here, a stop at our beautiful Capitol building is a great idea.
My personal favorite part of visiting the Capitol is walking around the beautiful grounds. The grass is green and lush and there are many benches around for people to enjoy. The statues and monuments scattered around tell some great stories of Texan history, as well. A good walk around the grounds is plenty for me.
If you're set on going inside, there's plenty to see as it's the largest state capitol and a National Historic Landmark. The building is filled with grandeur and the legend, lore and history of Texas. The large rotunda is very impressive, with the star of Texas tiled into the floor and the walls lined with portraits of the past state governors.
The Capitol building is the anchor of downtown and is visible from all around town. One of the greatest views is from So. Congress, looking all the way north up Congress to the capitol.
2. Barton Springs Pool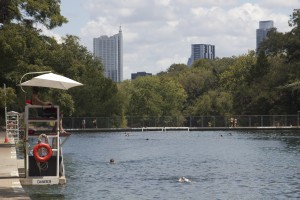 2101 Barton Springs Rd.
Austin, TX 78704
(512) 476-9044
http://www.ci.austin.tx.us/parks/bartonsprings.htm
Barton Springs Pool is our beach in Austin. Okay, I know, it's not really a beach, but it's what we've got.
The 'beach' is a grassy hill where you can sprawl out on your beach towel and spend the day. The 'ocean' is a natural spring-fed pool that stays a cool 68 degrees all year round. Going to Barton Springs feels like a bit of a time warp. It's a retro feel and it's super refreshing on those hot summer days. I love me some Barton Springs.
It's open from early morning to late at night, and they throw a pretty mean full moon party. But, just don't try to go on Thursdays – it's closed for cleaning.
3. Walk Along Town Lake
Town Lake is what helps give Austin the feeling of being a fit town. Nearly every day of the year the hike and bike trail, which runs alongside the river, is packed with people out exercising.
Once you get close to Congress Avenue on the south side of the river, you will see a statue of Stevie Ray Vaughn, then dozens of dogs out running around and playing in the water, all the while you'll have a great view of downtown with plenty of places to stop, take a breath, and enjoy a nice sunny day in Austin.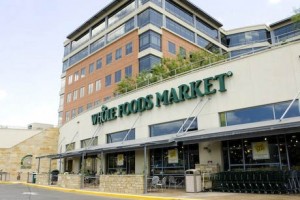 4. Whole Foods Austin
525 N. Lamar Blvd.
Austin, TX 78703
(512) 476-1206
www.wholefoodsmarket.com/Lamar
Whole Foods Austin is the flagship store, and probably the best grocery store in the world. Seriously, this place is almost more of a destination than a store. How can a grocery store be a tourist destination, you ask? Walk into Whole Foods and find out.
The store is the size of a warehouse, but laid out with the shopper in mind, so still doesn't feel too overwhelming. There is of course the uber-fresh produce and delicious packaged foods that you expect at all Whole Foods. But, what makes the flagship stand head and shoulders above the rest is the enormous amount of prepared foods available here. You name it: full meat carving station, sushi, grill, trattoria, oven-baked pizza, deli, full salad bar, olive bar, soup bar, the list could go on for hours. Never mind their in-house wine bar, mouth-watering dessert selection, or extensive cheese options. Oh man, I think I'm hungry.
Whole Foods Austin on N. Lamar is amazing. Period. Go, eat and be happy.
5. Mount Bonnell/Hula Hut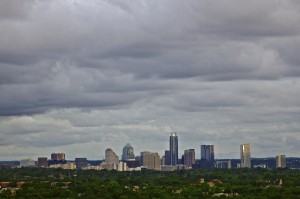 Mt. Bonnell Rd.
Austin, TX 78731
Mount Bonnell is the highest vantage point in town and provides the best view of Austin. After a short trek up the steep stairs, you're rewarded with a gorgeous view of Lake Austin, downtown Austin, the 360 Pennybacker bridge and the pristine hill country. It's a great way to get a great perspective of the city and take in all that Austin really offers: lush greenery, a nice manageable downtown, and luxurious waterfront living. You can even peak into the backyards of the million-dollar homes just below.
If you're up for more lake viewing, a drive from Mt. Bonnell to Hula Hut will give you a great tour of some of the nice neighborhoods lining Lake Austin. Hula Hut is an island-themed restaurant, that, although a little kitschy, has a great view of the calm Lake Austin. It is a great place to relax with a cocktail and some food, while sitting over the water and enjoying the view.
6. Bats on Congress Bridge
100 S. Congress Ave.
Austin, TX 78701
(512) 416-5700
Austin is home to over 750,000 Mexican free-tailed bats. When the bridge was renovated in 1980, the bats found it to be a perfect home for them. So, they settled in and haven't left since. During the months of March through October the bats all leave around sunset to go for their feeding. Watching the thousands of bat coming out at the same time is an overwhelming experience. When you look out to the horizon, you just see a moving swarm, a ribbon in the sky.
There are a few different ways to see the bats. There are two viewing areas, both on the east side of Congress bridge, one north and one south. Then, there's on top of the bridge. And, then actually getting in the water on a guided boat tour, or renting a kayak. I've tried it all ways and I'd recommend either standing on top of the bridge or doing a boat tour. Just watch out for the guano!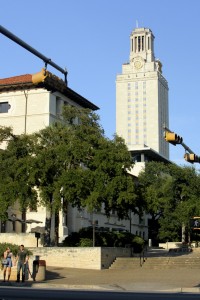 7. University of Texas / Tyler's
105 W. Dean Keeton St.
Austin, TX 78712
(512) 471-1211
A stop on the drag on Guadalupe is a great stop for tourists. The University of Texas is what makes this town go 'round, so why not stop by. The university grounds themselves make a nice walk, with beautiful landscaping and architecture.
Then, a walk through the UT co-op is an overwhelming experience. I've never seen so much school-branded merchandise in my life. Toilet seat covers, keyboards, ice scoops, the most extravagant or mundane, you can find it there, in burnt orange with the longhorn emblazoned on it.
Tyler's is a large shop on the drag that must make a killing on their 'Keep Austin Weird' t-shirts. It's a slogan that the town has adopted, but Tyler's has monopolized on. They also have some other cool Austin shirts, but besides that, it's more like a surf shop.
You may have noticed that restaurants aren't on this list. When visitors come to town, eating is usually priority #1.
Check out these other lists to see where to have some amazing grub while visiting Austin: Restaurants, Trailers, North Austin Asian.
Where are your favorite places to visit in Austin?.
Related Articles
Share
About Author
(1) Reader Comment