One of our favorite things about Austin is the culinary delights that it offers. We feel so lucky to live in a small city that still has such wonderful options for great meals. Here is a list of what we find to be the 7 best restaurants in Austin.
1. Uchi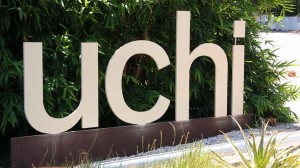 801 S. Lamar Blvd.
Austin, TX 78704
(512) 916-4808
www.uchiaustin.com
(Disclaimer: Ken was the bartender here for over 2 years) 
Uchi is Austin's best Japanese restaurant. Eight out of the last nine years, it was named the Best Restaurant in Austin by the Chronicle. This year, Chef Tyson Cole won a James Beard Award for Best Chef in the Southwest.
The food is out of this world. Every bite is created to be the perfect delicate bite with a balance of sweet, salt, and acidity. Up front is a sushi bar that puts out traditional sushi and sashimi, as well as the 'Cool Tastings' the specialties of the house. In back, there is a kitchen that puts out hot dishes that are meant to complement the cooler sushi bites.
The knowledgeable servers are quick to explain each ingredient when they drop off a dish and even some tips on how best to eat it. They encourage using your fingers to eat your sushi, fish side down on your tongue! (and soy sauce and wasabi are a no-no on all but a very few sushi pieces). It's one of the nicest and most expensive restaurants in town, but it's not stuffy. There is no dress code, and you'll find hipsters, techies and sometimes even cowboys inside the old home on South Lamar. By the way, Uchi means 'house' in Japanese.
My favorite part about visiting Uchi is the endless stream of food. It's recommended to eat family style and to share with the table. This is what we do, you get to try so many things and share the experience with the others. Uchi is about the experience.
Order the Saba Shio (grilled mackerel), the Machi Cure (smoked yellowtail with yucca chips, raisins, and ponzu sauce), and the three piece chef's selection sushi. At the end of the meal…I always like to end with a savory sushi piece, the foie gras nigiri. It's creamy, smoked, sweet and ever so perfect. Add to that a dessert from Chef Philip Speer, and you will leave happy, guaranteed.
2. La Condesa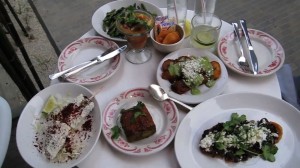 400 W. 2nd St.
Austin, TX 78701
(512) 499-0300
www.lacondesaaustin.com
We put off going to La Condesa for months. The thought of spending a pretty penny on Mexican food just didn't seem to make sense. Then, we finally bit the bullet…and I'm glad that we did. Amazing.
La Condesa brings street food to an upscale downtown setting. Even though it's a nicer restaurant, with pricier entrees, we still seem to make it out of there without paying too much. We stick to the small plates, 'street food', and share everything.
Seriously, it's so delicious. The perfect balance of traditional recipes with a blow-your-mind attitude; fresh ingredients, interesting combinations, and always right on the money.
Some of our favorite munchies are the street corn, seafood ceviche and huaraches. And, don't miss out on the platanos for the perfect ending to a meal.
3. Justine's
4710 E. 5th St.
Austin, TX 78702
(512) 385-2900
www.justines1937.com
We have some great French restaurants in Austin, but when Justine's opened their doors two years ago, it was with open arms.
This unsuspecting French bistro tucked away in the dark streets of the east side, serves up some delectable French cuisine in an intimate and romantic setting, but in a casual enough way that you don't feel weird hanging out here with your friends.
This place is off the beaten path, so they can stay open very late, in true European fashion. Come here for the atmosphere as much as the food. When you find that this is a primary hangout of the restaurant folk in Austin, you know you've found a good place.
Justine's is authentic French cooking, with a French attitude in an authentic Austin setting.
4. Parkside
301 E. 6th St.
Austin, TX 78701
(512) 474-9898
parkside-austin.com
Usually Dirty 6th is a place to avoid if you live in Austin. But, Parkside is one of the exceptions to that rule. I knew I liked the sound of this place when their business hours posted on the door were "5ish until 12:30 a.m." It's a perfect depiction of Austin. Here's a nice restaurant, downtown, and they're laid back on even stating when they open their doors.
Parkside is a great place to hit the raw bar. Their oysters and ceviches are why you should come here. And, making it during happy hour, means you get the same, delicious food for half price. With their inventive menu, creative cocktails and fresh raw bar, Parkside is a great way to spend some time on 6th without feeling 'dirty'.
5. Paggi House
200 Lee Barton Dr.
Austin, TX 78704
(512) 473-3700
www.paggihouse.com
Paggi House has a great location, just south of Town Lake right off of S. Lamar with a nice view of the Austin skyline.
Their front porch is amazing and a great place to grab a drink, happy hour, or some apps when the weather is right. Inside, like so many other places in Austin, is an old, refurbished house turned restaurant. It feels like you're in a regal Texas home having a dinner party. The lighting and ambiance is just right for a serious meal.
It will definitely make a dent in your wallet, but it's worth it for a nice night out in Austin.
6. The Salt Lick Barbecue
18300 FM 1826
Driftwood, TX 78619
(512) 858-4959
www.saltlickbbq.com
Salt Lick is renowned as being the best barbecue in Austin…but it's not in Austin, it's in Driftwood, at least a 30 minute drive outside of the city. It has graced the likes of the Food Network and the Travel Channel. Everyone has heard of it and it's a must-do if there are visitors in town.
They have an open fire pit when you first walk in where they cook up all of the delicious meats available to you: brisket, ribs, turkey, sausage. You can get behind the counter and take all the pictures you like. They definitely let you whoop it up as a tourist at this place.
The barbecue is pretty darn good, warning: it's not the best in Austin. But, it's worth the pretty drive out there to Driftwood and for the experience. What keeps a lot of people going to the Salt Lick is the all-you-can-eat option and BYOB. You'll definitely notice more than a few picnic tables filled with some large men, a rolling cooler full of beer, getting down on as much barbecue as they can fit in their stomachs.
The Salt Lick is an experience and a must-do if you're in Austin or you have visitors coming through.
7. Rudy's Country Store & Bar-B-Q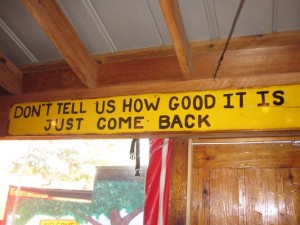 11570 Research Blvd.
Austin, TX 78759
(512) 418-9898
rudysbbq.com
Okay, so you should go to The Salt Lick for the experience and the food, but you should not miss Rudy's for the barbecue. This is the place. If you want barbecue in Austin, or shoot, in Texas, then go to Rudy's, eat the brisket, eat the ribs, and you shall have Texas barbecue happiness. That is all.
This is our 'best of' list, but if you're looking for more ideas, check these out:
Home Slice Pizza
1415 S. Congress Ave.
Austin, TX 78704
(512) 444-7437
www.homeslicepizza.com
Perla's
1400 S. Congress Ave.
Austin, TX 78704
(512) 291-7300
www.perlasaustin.com
Uchiko
4200 N. Lamar Blvd.
Austin, TX 78756
(512) 916-4808
uchikoaustin.com
Lamberts Downtown Barbecue
401 W. 2nd St.
Austin, TX 78701
(512) 494-1500
www.lambertsaustin.com.
Related Articles
Share
About Author
(1) Reader Comment