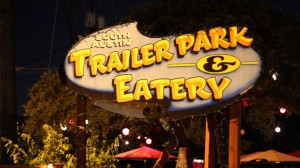 The trailer scene in Austin is burgeoning and busting out at the seams. It's the perfect storm of creative chefs, an entrepreneurial spirit and the city ordinances that allow for food trailers to flourish. We are so happy to be living in Austin when the food trailers rule!
There are tons, but here are our 7 favorite trailers from living here for the past 3 years…
1. East Side King @ Liberty Bar
1618 1/2 E. 6th St.
Austin, TX 78702
(512) 422-5884
www.eastsidekingaustin.com
East Side King at Liberty Bar serves up some of our all-time favorite grub anywhere, never mind Austin. They specialize in Asian fusion street food. It's ran by a bunch of chefs from some famous restaurants in town and they pretty much make what they'd want to eat. Can't go wrong there.
Our favorite dishes there are the beets and the brussel sprouts. Two vegetables that get a bad wrap growing up, but are unbelievably tasty when touched by ESK. A side of beet fries is served with the deliciously sweet kewpie mayonnaise and the brussel sprouts are grilled and tossed with sweet chili sauce and some other goodness and served over a bed of jasmine rice. I'm starting to salivate. So yummy, just go and eat there. Oh yeah, and the pork buns are awesome, too!
2. Odd Duck Farm to Trailer / Gourdough's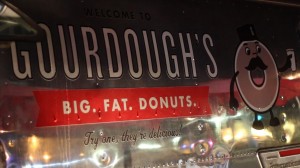 1219 S. Lamar Blvd.
Austin, TX 78704
www.farmtotrailer.com
www.gourdoughs.com
Odd Duck Farm to Trailer & Gourdough's share a lot on S. Lamar across from the Alamo Drafthouse. Although one serves up nearly perfect dinner fare and the other, dessert, I've never been able to successfully have both in one night. They're both so rich and delicious that you should keep them separate.
Odd Duck Farm to Trailer creates a new menu daily from the freshest ingredients they can find in the Austin area. They whip up some French-American fusion dishes that are just divine. There is a lot of pork belly inspired dishes and some great cheesy grits that you should definitely try. Keep your eyes open for quail, too.
Gourdough's serves gourmet donuts. These are huge, half the size of your face, custom made donuts. They can use whatever toppings you'd like, or you can go with one of their classics like Son of a Peach (peach, cinnamon, sugar, cake mix), Porkey's (bacon, cream cheese, jalapeno jelly) or Funky Monkey (grilled bananas, cream cheese icing, brown sugar). Big.Fat.Donuts. So good!
3. G'raj Mahal
91 Red River St.
Austin, TX 78701
(512) 480-2255
grajmahalaustin.com
G'raj Mahal is an Indian food trailer in the uber hip Rainey Street district. It feels more like a trailer-restaurant hybrid than anything else. Like the others on this list, the caliber of food is much higher than expected for street food, but G'raj Mahal also provides the atmosphere that customers look for at a restaurant.
On their lot, they've constructed multiple wood structures with roofs protecting patrons from the sun and the weather. They also have white lights strung around these 'tents' and white sheer fabric that adds an airy feel to the whole place. You get an experience and the best Indian food I've had in Austin, hands down.
4. Torchy's Tacos
1311 S. 1st St.
Austin, TX 78799
(512) 366-0537
www.torchystacos.com
Torchy's Tacos is a trailblazer in the Austin food trailer scene. With a dream in his heart, Michael Rypka started Torchy's years ago before trailers were cool. Now, his business is leading the scene and has several storefront locations, as well.
Torchy's offers some pretty mean-sized tacos with interesting combinations and names, like Fried Avocado, The Democrat with barbacoa, Brush Fire with Jamaican jerk chicken, and so much more. Check out their original trailer on S. 1st to see what it's all about.
5. Sushi-A-Go-Go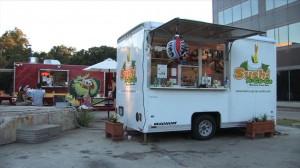 801 Barton Springs Rd.
Austin, TX 78704
(512) 423-7170
www.sushi-a-go-go-austin.com
Sushi out of a trailer. In Austin – a land-locked city. Yes, you have to take a moment to stop and ponder this. But, once you get over it, you realize how fresh and delicious Sushi-a-go-go is. This trailer is run by the Japanese couple, Take and his wife, Kayo, and they offer traditional Japanese sushi and sides at a great price.
Check out their Sunshine roll, the potato croquettes and seaweed salad.
6. The Mighty Cone
1603 S. Congress Ave.
Austin, TX 78704
(512) 383-9609
www.mightycone.com
The Mighty Cone began when the Austin City Limits music festival was looking for some Austin-inspired local food to serve at the festival. The sous chef at the fancy Hudson's on the Bend came up with the delicious concoction that makes up Mighty Cone, and the rest is history.
Mighty Cone serves hot & crunchy fried goodness, they fry up chicken, avocado, shrimp and more with their special mix of sesame seeds, almonds, chili flakes, sea salt, sugar & corn flakes. It sounds interesting, but it tastes amazing.
7. Franklin Barbecue
900 E. 11th St.
Austin, TX 78702
www.franklinbarbecue.com
Franklin Barbecue is known as the best barbecue in Austin. So good that they sell out every day and people wait in line for hours just to get their hands on some. Most people suggest arriving at 10 a.m. for the 11 a.m. opening. And, this is not just for weekend days, but all days of the week. Calling it a trailer is kind of a misnomer now since they recently moved to a brick and mortar location (but, it's recent enough, so go with it). They're still selling out even as a 'restaurant.'
I can only speak for the brisket, but the word is that the sausage is bangin' and the pulled pork is divine. And ribs that fall off the bone, just like you would expect from a world-class bbq joint.
These are our favorites, but if you want more trailer food, check these ones out, too:
Hey Cupcake!
1600 S. Congress Ave.
Austin, TX 78704
(512) 476-2253
www.heycupcake.com
Me So Hungry
1104 E. 6th St.
Austin, TX 78702
(512) 796-0804
mesohungry.biz
ChiLantro BBQ
Always on the move! Follow them on Twitter
Austin, TX
(512) 568-0256
www.chilantrobbq.com/
Flip Happy Crepes
400 Josephine St.
Austin, TX 78704
(512) 552-9034
www.fliphappycrepes.com.
Related Articles
Share
About Author
(1) Reader Comment