Okay, well obviously we don't stay in a lot of hotels in Austin since we live here, but we do know the low-down on what's cool here in town. Here are the places that we'd choose to stay in if we were coming in from out-of-town.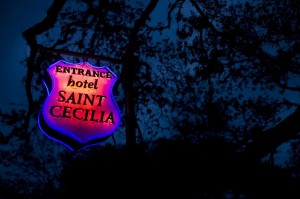 1. Hotel Saint Cecilia
112 Academy Dr.
Austin TX 78704
(512) 852-2400
www.hotelsaintcecilia.com
Avg. $405 / night
Hotel Saint Cecilia is a Texas mansion turned small hotel with grand grounds. A Liz Lambert project, Hotel Saint Cecilia offers 5 suites, 6 poolside bungalows and 3 studios. It's right off of South Congress, the SoCo area, in the midst of great shops, bars and restaurants.
It is a high-end boutique with lots of personal, unique touches. I haven't stayed here but the service, experience and ambiance are known to be extraordinary. If you are looking for something luxurious, but more personal than a large chain, Hotel Saint Cecilia is your best bet in Austin.
2. Four Seasons Austin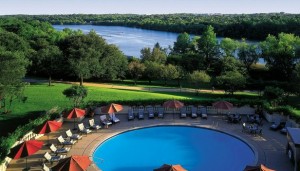 98 San Jacinto Boulevard
Austin, Texas 78701
(512) 478-4500
http://www.fourseasons.com/austin/
Avg. $360 / night
The Four Seasons Austin is located right on Town Lake and only a short walk from the Convention Center. It is perfect for those needing to be in the middle of everything.
The bar has a scenic view of the lake and an old school library feel with nice, comfortable leather couches, and heavy wood furniture. This is good Texas living, and as a bonus, you get the beautiful outdoor garden, with hammocks and lounges spread around the grounds.
Four Seasons is exactly what you expect: upscale, in a great location, and very straightforward. For those looking to stay in a big, well-known chain, this is the best.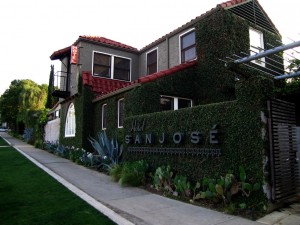 3. Hotel San Jose
1316 S Congress Ave.
Austin, TX 78704
(512) 852-2350
www.sanjosehotel.com
Avg. $250 / night
Hotel San Jose captures the essence of Austin; simple, creative and peaceful. It's Liz Lambert's first, beautiful hotel creation.
It calls itself an urban, bungalow-style hotel. I think of it as a perfect blend of zen, modernity and comfort – think dark wood and lots of greenery. Walking down the bustling So. Congress Ave., you can feel the serenity of the hotel.  When you walk onto the property, the high, ivy covered walls, help hide you from the SoCo scene just steps away. The balance of water features and landscaping puts you at ease without being imposing and the doors and fences are made with thin wooden slats.
There is a relaxing back patio with plenty of seating, with candle lit tables and an offering of nice wines, great beer and tasty snacks. The pool sits to the side of the patio, separated by its own enclave of bamboo. The narrow pool, surrounded by white butterfly chairs is perfectly peaceful and just separate enough from others socializing in the bar.
The theme carries over to the rooms as well, which are a great place to relax. Simple, yet comfortable furniture. White walls, but color accents to keep it interesting, and a very comfortable bed sitting on a wood platform. Perfect. Intimate and romantic.
Simplicity is the key at Hotel San Jose, and it's just done so well.
4. Barton Creek Resort & Club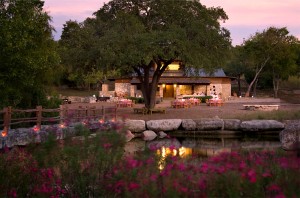 8212 Barton Club Dr.
Austin, TX 78735
(512) 329-4000
http://www.bartoncreek.com
Avg. $209 / night
Barton Creek Resort & Club is well known for its legendary golf courses, considered some of the best in the country – fittingly, it is what many call the best resort in Austin. Some other area resorts like Hyatt Lost Pines and Lakeway Resort are actually a bit out of town, but not Barton Creek. Although it's still 'in Austin', the drive out to the resort might make you think differently as enter the Texas Hill Country.  The resort lies on a beautiful piece of the greenbelt with beautiful city and country views.
For a more relaxing stay for those who don't need to be downtown, Barton Creek provides a wonderful natural setting, and convenience of still being within the city limits.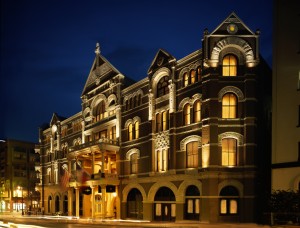 5. Driskill Hotel
604 Brazos St.
Austin, TX 78701
(512) 474-5911
http://www.driskillhotel.com/
Avg. $172 / night
The Driskill Hotel sits near Congress Avenue at one end of the lively downtown 6th street area and dubs itself as, "Authentically Austin, Distinctively Driskill". The hotel was built in 1886 as the showplace of a cattle baron and still strives to retain the same ol' western charm. You know you are in Texas with the marble floors, stained glass dome, grand staircase and some subtle (and not so subtle) cattle-inspired decor.
The bar of the Driskill serves up the classics and  retains the old-fashioned feel with the cowhide couches and bar stools.The rooms themselves are filled with big, heavy, masculine furniture.
The Driskill is a welcome sight on the sometimes unsightly 6th street and provides a reprieve from the craziness while adding some traditional class to the city. The building itself is a beaut. Classic, historic and elegant.
6. Austin Motel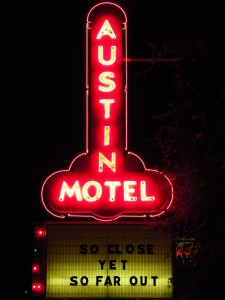 1220 S. Congress Ave.
Austin, TX 78704
(512) 441-1157
www.austinmotel.com/
Avg. $110 / night
Austin Motel is an icon in town. It sits near Hotel San Jose and St. Cecilia on South Congress and can't be missed with its huge, (phallic) neon sign.
The Austin Motel is what you would call eclectic, funky, quirky, and kitschy. It has a distinctive 'Keep Austin Weird' flair to it. It has been family owned and operated since 1938. It has a 50s-style lagoon pool and each room comes with its own theme. They are unique, but they aren't very updated.
In all, it's a unique experience, cheaper than most and in a great part of town. If you are trying to stay downtown, trying to save money and want an authentic Austin feel, then this is your place. As the hotel says, "So close, yet so far out." Gotta love Austin.
7. Austin Hostel – Hostelling International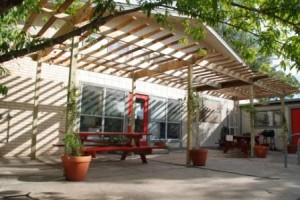 2200 S. Lakeshore Blvd.
Austin, TX 78741
(512) 444-2294
www.hiaustin.org
Avg. $23 / night
Hostelling International Austin offers a great, low cost option for accommodation. This hostel sits on right on the lake and offers a good-sized seating area with a grill for guests. There are plenty of places to relax, be it inside the hostel, or out on the grass, or down by water.
There are a mix of private and dorm rooms, private parking lot, shared kitchen and free wi-fi. Some Austin touches include a fish tank, guitar to borrow, comfy couches, a house cat, and a green philosophy with an emphasis on recycling and using solar energy.
So, if you're coming into town on a budget this hostel is maybe your best bet. Cheap, convenient, and located on the water. If you are looking for a hostel, this is your place.
The Top 7 are our favorites, but here are some other great hotels in Austin:
W Hotel Austin
200 Lavaca St
Austin, TX 78701
(512) 542-3600
www.whotelaustin.com/
Omni Hotel Austin
700 San Jacinto Blvd
Austin, TX 78701
(512) 476-3700
www.omniaustindowntown.com
Intercontinental Hotel – Stephen F. Austin
701 Congress Ave
Austin, TX 78701
(512) 457-8800
www.intercontinental.com
AT & T Executive Education and Conference Center at University of Texas
1900 University Avenue
Austin, Texas 78705
512-404-1900
http://www.meetattexas.com/hotel.php
Related Articles
Share
About Author
(1) Reader Comment