After living in Austin for a few years, you get a feel for the neighborhoods where people live and hang out. If you're thinking of moving to Austin, or just dropping in for a visit, our list of 7 Austin neighborhoods should help guide you in the right direction.
1. South Congress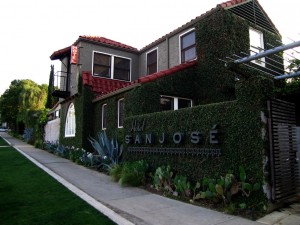 The SoCo neighborhood may be the best representation of Austin. The Continental Club provides the music, Hotel San Jose provides a place to lay your head, and with Perla's,Vespaio, Botticelli's, Home Slice, Guero's and a trailer park all lined up along the Avenue, there are plenty of places to grab a bite to eat. As a bonus, Amy's Ice Cream lies at the bottom of the hill.
A stroll up SoCo is a great way to spend a day. Besides everything listed above, there are tons of fun shops to walk through, like the giant costume shop Lucy in Disguise, or the antique store Uncommon Objects, and don't miss out on a Texas staple, cowboy boots, and hundreds of them at Allens Boots.
If you are in town for just a couple days and want to get a good feel for the vibe of Austin, hit up SoCo, but there is no need to look for anything, just hang out and enjoy the day.
2. East Side
The East Side is the newest, hippest part of town, or should I just say, the Hipster part of town. What was once a forgotten about neighborhood on the wrong side of the 35, is now an extension of downtown. There are a bunch of places to eat, like the two trailer parks, or the cool East Side Show Room, Shangri-la and Rio Rita are two classic East Side bars, and one of the best trailers in town, East Side King is found in the back of The Liberty.
As with many up-and-coming neighborhoods, the East Side still has a bad rap among a certain breed of Austinites, but for the struggling musicians, the artists, and chefs who reside here, it is a vibrant, centrally located, rebuilding neighborhood, and a hip place to call home.
3. Sixth Street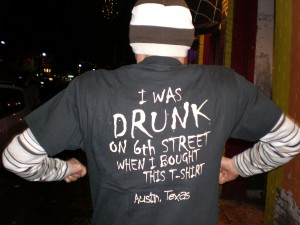 Dirty Sixth, as it may be known to some locals, is that one place that every thriving town has to have, a place where tourists can go to get drunk, to act like a fool, and then to go back home and tell everybody how much they loved Austin.
If there is ever an event in town, be it SXSW, Texas Relays, ROT Rally, ACL or anything else you can think of, Sixth Street will be a madhouse. The only good thing about Sixth Street, is that Red River is nearby, and most of the good music in town happens there. Other than that – enter at your own peril.
4. West of Congress: W. Sixth, Fourth, Second
West Sixth is known for its club-like atmosphere. Less hipster, more baller. Fourth Street has long been known as the gay area. Second street is being revitalized with new hotels, movie theatres, restaurants, and so on. Together these neighborhoods are presenting a modern  upscale urban living environment to contrast against the East Side and Dirty Sixth.
The neighborhood starts on Sixth and Congress, goes south to the River and East as far as Whole Foods. For those looking to live near this neighborhood should look at places in Clarksville.
If you've been living in LA or New York and are looking for a similar lifestyle in Austin, then this may be your area. New, modern, clean and convenient. Austin really is growing up.
5. Guadalupe Street, University of Texas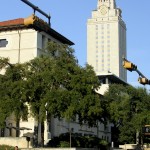 I never went to UT, so I don't have much of a connection to "The Drag" as it is called here, except for the fact that I like to hang around coffee shops, and there are plenty located here, near the biggest university in Texas. Guadalupe is a main street that runs through Austin, and for a good mile or so, it runs up against the university. This is a good place to walk around and to get a feel for the school life. There is a big campus store, and Tyler's is a popular tourist stop as well. And, of course you can always just take a stroll around the campus.
For students, this is the center of their life.
6. Hyde Park
Hyde Park is a hidden neighborhood just north of campus. While most of the other neighborhoods listed are great for visiting, hanging out and spending a few days, Hyde Park is more geared to long-term living. It is a small, quiet neighborhood, with lots of little cafes and restaurants, and is great for those who want to walk, or ride a bike around town. It's pretty much as far north as you can get in town without really 'needing' a car.
7. Rainey Street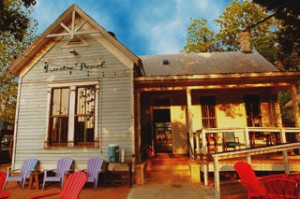 Rainey Street is the newest of the burgeoning downtown neighborhoods. It has literally blown up since we moved to Austin two-and-a-half years ago when Lustre Pearl was just opening up, and since then, Clive Bar, Bar 96, and Icenhauer's have all opened as well as several food trailers including G'Raj Mahal, el naranjo and Cazamance. All of the bars are old 'homes' converted into bars. Rainey Street has a laid back feel, while still having an edge. This is one of my favorite areas to hang in town. As far as living, the people who have owned homes here forever aren't enjoying the influx of bar traffic, but if you can afford one of the high-rise apartments, you have a great little corner of town at your fingertips..
Related Articles
Share
About Author
(2) Readers Comments