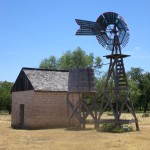 One of the great things about Austin is that it is a bigger city, but you don't have to go far to get out in the country. Just a few minutes out of town and you go from Austin to Texas. As an added bonus, if you are looking for a bigger metro area, you don't have to go far as three of the biggest cities in the country are only a couple of hours away – Houston, Dallas and San Antonio.
1. Bastrop, TX
33 mi, 45 min. from Austin
Bastrop is a small, country town that is just a few minutes past the airport. For anyone looking to take a quick and easy day trip, there are a lot of fun things to do. The best part about Bastrop is there are great things to do no matter your budget.
For those looking for a resort atmosphere, you can stay at the Hyatt Lost Pines. Lost Pines has one of the better golf courses in the area with their course, Wolfdancer. As well, there is great pool with a lazy river, tennis courts, horseback riding, and plenty of places to get lost in the woods.
As expected, a stay at the Hyatt can cost a little more than some people want to spend, but do not worry because there is the Bastrop State Park, the Colorado River, a nice, quaint old town, and a cheap muni golf course.
2. Hamilton Pool and Krause Springs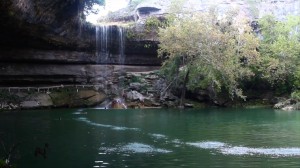 Hamilton Pool, Dripping Springs, TX, (512) 264-2740; 31 mi, 45 min. from Austin
Krause Springs, Spicewood, TX, (830) 693-4181; 37 mi, 50 min. from Austin
Hamilton Pool is considered one of, if not the best swimming hole in Texas. About 40 minutes out of town, Hamilton Pool is an idyllic deep water swimming hole with a grotto and waterfall. To top it off, the drive out to Hamilton is a nice, relaxing cruise through the Hill Country.
If you are looking for a way to cool down, and to get away for a day, Hamilton is highly recommended. One thing to know about Hamilton is that they only allow a limited number of cars into the lot, so if you get there late, you may have a long wait. Also, there is a short walk from the lot to the pool, so it is not advised to bring strollers, or anybody who has trouble getting around.
Krause Springs is another pool, with camping available, and is very comparable to Hamilton.
3. Luckenbach and Fredericksburg, TX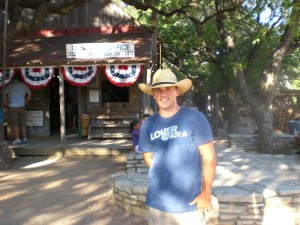 Luckenbach, TX: 73 mi, 1 hr. 30 min. from Austin
Fredericksburg, TX: 78 mi, 1 hr. 35 min. from Austin
Fredericksburg is a small German town about 80 miles west of Austin that mixes the cowboy ways with the old German heritage. Fredericksburg may be best known for their peaches, and for being the home of Lyndon Johnson. In town you can stop in at the house where he grew up. Outside of town you can check out some Texas wineries.
However, as good as Fredericksburg may be, the best thing about town is not even in town at all, Luckenbach, Texas, population 1, is just a few miles away, and is best known for being the place that Willie Nelson and Waylon Jennings sing about, "Let's go to Luckenbach Texas, with Willie and Waylon and the boys…" This is pure country, from the old post office, to the bar in back, to the dance hall and saloon. This small plot of land is a great place to get out of town, and enjoy real country Texas. If you go, bring a tent and you can stay at Armadillo Farm Campground, which is just down the way, or you can slip into Fredericksburg to find a hotel. Either way, "Everybody's somebody in Luckenbach."
4. New Braunfels, TX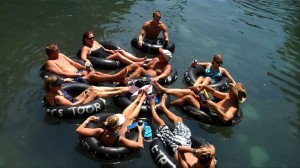 48 mi, 55 min. from Austin
New Braunfels is best known as a quaint, German town and a great place to float the river. Basically, if you are 21, and want to party, you go, rent a tube, bring a cooler, and slowly float down the river (either the Guadalupe or the Comal), but this is no relaxing float in nature, this is party time – think Spring Break, Memorial Day or Labor Day every day during the summer.
But, New Braunfels is also a good place to go with the little ones, as it is also home to one of the world's best water parks, Schlitterbahn. The Schlitterbahn has three separate water parks (all bordering the river that everyone is floating on). There are wave pools, giant water slides, lazy rivers, and plenty of places to chill out under the hot sun.
5. Lockhart, TX
30 mi, 40 min. from Austin
Do you like barbecue? Go to Lockhart. With an estimated 250,000 visitors a year, this sleepy little town is all about its barbecue. In fact, I don't know if there is any other reason to go. Located about 40 minutes out of town, this is a great day trip to get your grub on.  There are four barbecue joints (Blacks Barbecue, Kreuz Market, Chisholm Trail, and Smitty's Market). The barbecue may be top notch, but don't expect fine dining here. Paper mats, white bread and not much else to get in the way of all of the meat that they throw on your table (literally).
6. San Antonio, TX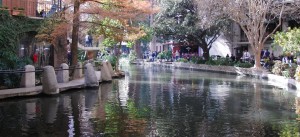 80 mi, 1 hr. 30 min. from Austin
San Antonio is best known for its River Walk, a river lined with restaurants, bars, and other entertainment that winds its way through the city. The Riverwalk was started in 1946 as a way to boost tourism, and it's worked. San Antonio is one of the most visited cities in the country. Besides the River Walk there is a Sea World, Six Flags, and of course remember the Alamo.
The Alamo is a historic remnant from 1836 when Davy Crockett and men stood up against the incoming Mexican army. They were up against impossible odds, yet stood strong and sacrificed their lives trying to defend their home. It is an important site that sits right downtown. I am still not sure why it is so important, considering they lost the battle, however, it has come to be an important part of Texas history.
7. Dallas and Houston, TX
Dallas, TX: 200 mi, 3 hr. 30 min. from Austin
Houston, TX: 165 mi, 3 hr. from Austin
Houston is the fourth-largest city in the country and Dallas comes in at number nine. Both are giant cities, and make Austin feel like a small town comparatively. Houston is known as an oil city and all of that oil money has made for quite an interesting place, full of art and with a love of food, Houston is a great place to get away for a weekend. The drive out there is on a nice, country road and takes only about two hours.
Dallas is just a 3 hour drive up the 35 freeway, where you can take in some football at one of the best stadiums in the world, or visit neighboring Fort Worth to see the Stockyards and Billy Bob's, the world's largest honky tonk.
Whatever your pleasure, Austin is really in the middle of so much, and allows tons of options for a day trip or a weekend away, be it outdoor activities or big city living, the problem is choosing where you want to go next..
Related Articles
Share
About Author
(0) Readers Comments