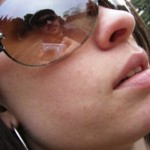 You may or may not know that one of my goals of the American Odyssey is to become a social media maven. I am an Internet marketer. I have been in the business for five years, but the jobs that I've been in haven't lead me into the social media marketing realm. So, I'm totally ready to jump in head first and learn all that I can in the coming months on how to use social media to catapult American Odyssey TV!
As SocialJuls, I'll be blogging on SocialJuls.com and tweeting from @socialjuls. I'm really excited for this challenge, but secretly I'm excited about something else. Now I have a venue to express my nerdy thoughts, questions and frustrations with other marketing/techy geeks that feel how I do!
Check me out. SocialJuls.com and @socialjuls..
Related Articles
Share
About Author
(0) Readers Comments