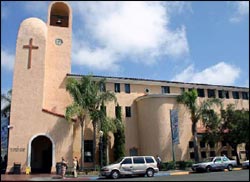 Of course I knew what Tessa did for her job, but I didn't really know. Yesterday, Kenny and I visited her at St. Vincent de Paul Village (Father Joe's) and really learned. It was a feel-good, humbling morning, a great way to kick off the American Odyssey, and left me beaming with pride for one of my best friends.
Father Joe's Village provides housing, food, job skills training, counseling and so much more to those who have found themselves living on the street in San Diego. Tessa is the Director over all of the kitchens in the Village. What we wanted to focus on while we were there was the Culinary Arts Program (CAP).
CAP is a 6-month hands-on training course where students learn how to work in a kitchen. They learn about knife skills, safety, garnishing, and everything from A to Z involved in being a cook. They practice their skills Monday through Friday by cooking for the kids line at the Village. Once they've completed their hands-on training there, the next step is a 2 month internship at a local restaurant where they put their skills to test. After this is complete, they're free to move on to a paid job where they can begin one of the first steps of establishing themselves. Tessa oversees this program.
As expected, Tessa told us that there's never a dull day at the Village. We wanted to see some of the animals that visit the soup kitchen, so she took us next door to the 'Step 1' lunch room. The first table as soon as you stepped in the room had about 6 people, all with animals sitting at it. Tessa quickly asked if we could film and Kenny started setting up. That's when one of the guys started freaking out! He was screaming at the top of his, "Cut! Cut! Cut, bro!" He stood up at the table and was ready for a confrontation. We quickly backed away and Tessa calmed him down. She's cool as ice in these situations.
Then, we went outside and met one of Tessa's 'friends'. This man had a smile from ear to ear. She told us that he usually asks her to dance. He rolls up with his walker and she asks, "Do you know me today?" His reply, "You look different with your clothes on!" We lost it, it was hilarious.
There is so much to say about Father Joe's Village and all of the wonderful work that they do there. I think we captured the day pretty well on video. Be looking for our feature video that focuses on CAP and Father Joe's in the coming week.
Tessa, keep working it, girl. I'm proud of you!.
Related Articles
Share
About Author
(0) Readers Comments