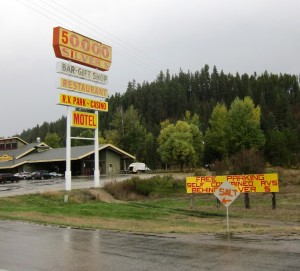 Heading west on I-90 from Missoula to Spokane, you can't miss the 50,000 Silver Dollar Bar and Casino. The whole way you're bombarded by signs inviting you to drop in. And, truthfully, there isn't much else to do along the way, so why not? If you need some more encouragement, check out our reasons to make a stop at the 50,000 Silver Dollar Bar and Casino.
1. Free RV Camping (with electricity!)
It was an RVer's dream come true. We really appreciated a safe spot to stay for the night, with a store to buy some things, and a restaurant to grab some food – and did I mention FREE electricity!
2. Right on the highway
There's no driving around looking for this place. All signs point to the Silver Dollar Bar and you can literally see it from the interstate.
3. Walls lined with silver dollars
It's dubbed the 50,000 Silver Dollar Bar and Casino because the walls of the bar are lined with over 50,000 silver dollars collected from over the years.
4. Crazy souvenirs
The shop is filled with crazy souvenirs. From stuffed animals, weird painted wood pieces, to scary-looking wine bottle holders, if someone's made it, they've got it. You can also find some things that someone may actually want, too – for a good price.
5. 'Friends'
Personally, I enjoyed the friends that I met there. Sitting at one of the bar tables, was a Native American mannequin man donned in Western attire waiting to have a drink with you. We sat and chatted for a bit. Then, in the corner of the bar is a carved statue of the one and only Honest Abraham Lincoln. Stop by and say hello to my friends!
6. Food
The Silver Dollar Bar and Casino also offered up some diner-style roadside trucker food. Perfect for a stop on your way somewhere or for your dinner for an overnight stop.
How to get there:
Exit 16 on I-90
90 miles West of Missoula, MT
110 miles East of Spokane, WA
406-678-4242
###
Related Articles
Share
About Author
(0) Readers Comments