I am not a fisherwoman. Kenny's no fisherman either. We knew we'd have growing pains learning how to fly fish.
Of course there is a ton to know and learn about fly fishing, but here are three things we wish we had known before attempting to fly fish.
1. Learn how to cast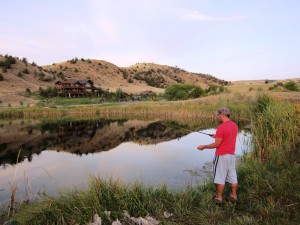 We've all seen movies and TV shows with fly fishermen whipping their line around, watching their line fly out further and further. We figured, no big deal, we can do this. So, we grabbed a pole and headed down to the pond at Grey Cliffs Ranch our first night (without any previous instruction) and tried to 'go fishing'.
Kenny was standing at the edge of the pond surrounded by cattails, vigorously trying to whip the line out ahead of him. We assumed the line would just stream right out – no such luck.
After many, many attempts and different methods tried, I was sick of watching him flail and figured I'd have no problem casting it out there. FAIL. Apparently, we just weren't getting it.
The next day we got instructions from Chris who broke down the fly fishing cast for us like this:
Let out some slack
Make sure the colored/weighted line is hanging past the tip of your rod
Hold the slack
Whip the rod back to 12 o'clock while releasing the slack
Pause and whip the rod forward, pointing your rod straight out
Well shoot, I felt like we were doing that! We were successful and casting great in no time after these tips from Chris.
2. Learn how to tie your fly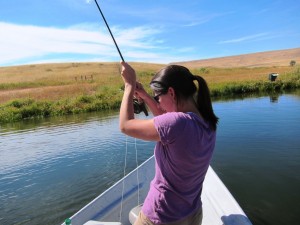 Fishing to me was always digging up your own worms. Not with fly fishing. There is no live bait. You have to tie your fly to your hook. But not just willy-nilly. There are tons of different fly fishing knots for you to learn and use. The idea is to keep your fly on nice and snug so the fish don't steal it.
The first time Kenny and I went out fishing without a guide, we were very excited. Kenny cast out his fly, felt a good bite, pulled it in and realized that not only did he not have a fish, he also didn't have a fly any longer. Whoops. Definitely learn how to tie your fly before hitting those rivers.
Here are some tips on tying your fly:
Lubricate the knot before tightening it to help it slide more easily
Seat the knot – Make sure it's tight and secure by testing it
Trim – Definitely trim the excess line around your knot
But, seriously, fly fishing involves lots of intricate knots that us novices haven't learned quite yet. Check out this article to see descriptions on some typical fly fishing knots.
3. Catch your fish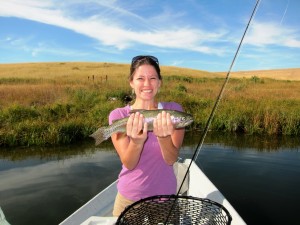 Okay, it may seem like a no-brainer, but actually getting the fish after you've hooked it and reeled it in wasn't as straight-forward as we thought it would be.
After our first day of fly fishing instructions, Kenny couldn't help himself and went out to the pond to try to catch one on his own.
He finally hooks one, and reels him in. Then realizes he's on the edge of the pond, with lots of green undergrowth at the edges, so the fish gets caught in the grasses. And, he doesn't have a net to grab the fish, he can't get to it. The hook is set and now we can't get to our new friend. We start to get frantic.
I go get a shovel, so hopefully we can scoop up the fish with that. Kenny is fighting with the fish down by the water, trying to let the poor guy go. Finally, after lots of fighting we let him go, it takes him a second to acclimate again to the water, but then he swam off like a happy fish. Whew! We didn't want murder on our hands!
So, Lesson #3 is to definitely have a net and pliers handy to take care of your fish once you do catch one!
Thanks to Chris at Grey Cliffs Ranch for teaching us how to fly fish and letting us fish on their two great ponds. We both caught quite a few trout and had a great time doing it.
###
Related Articles
Share
About Author
(3) Readers Comments